Ford VP: 'We have GPS in your car, so we know what you're doing'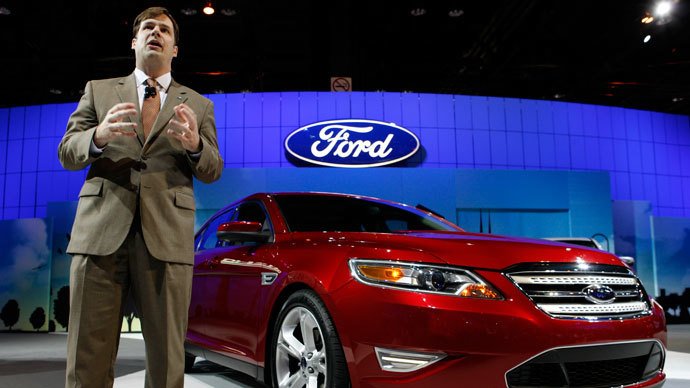 Modern automobiles are logging tremendous amounts of information every single second they're being put to use, and a senior executive at the Ford Motor Company says car manufacturers have access to every last piece of it.
At the CES electronic trade show in Las Vegas this week, the global vice president for Ford's marketing and sales division opened up about just exactly how much data is being collected by his company's latest line of smart cars.
"We know everyone who breaks the law, we know when you're doing it. We have GPS in your car, so we know what you're doing," Ford's Jim Farley told a Vegas crowd on Wednesday, according to Business Insider reporter Jim Edwards.
"By the way, we don't supply that data to anyone," Farley assured attendees.
But just as how National Security Agency leaker Edward Snowden revealed how the United States government compels telecommunication companies for metadata pertaining to the phone habits of millions of Americans on a regular basis, the sheer face alone that this automotive data is being collected and stored means it could someday be used by others.
Edwards described Farley's remark as being "both sinister and obvious."
"Because of the GPS units installed in Ford vehicles, Ford knows when its drivers are speeding, and where they are while they're doing it," Edwards wrote. Should the company choose to share that information with law enforcement, though, then it could create an environment where surveillance extends off the computer and onto the road.
As many as 96 percent of the cars mass-produced in 2013 included event data recorders, RT reported last year, similar to the black boxes that log information inside airplanes.
"These cars are equipped with computers that collect massive amounts of data," Khaliah Barnes of the Electronic Privacy Information Center told the New York Times then. "Without protections, it can lead to all kinds of abuse," she said.
According to Business Insider, Farley said this information is being recorded in cars by Ford so that data aggregators and analysts may someday later be able to use it in real time to help solve problems, such as traffic congestion.
As RT reported earlier this week, however, automobile owners don't have a choice for now as to whether or not they want their activities being etched into the computers of car makers. The Government Accountability Office released a report days before Farley's remarks detailing the results of an investigation into data storage protocol among auto makers Ford, General Motors, Chrysler, Toyota, Honda and Nissan and said that, across the board, if companies retained data then "they did not allow consumers to request that their data is deleted."
The GAO says it would be a "recommended practice" for auto makers to adopt a policy that lets drivers be sure their personal driving data is destroyed upon request.
Sen. Al Franken (D-Minnesota) initially asked for the report to be conducted, and upon its completion this week he issued a statement saying more needs to be done to safeguard privacy in the information age.
"Modern technology now allows drivers to get turn-by-turn directions in a matter of seconds, but our privacy laws haven't kept pace with these enormous advances," Franken said. "Companies providing in-car location services are taking their customers' privacy seriously – but this report shows that Minnesotans and people across the country need much more information about how data are being collected, what they're being used for, and how they're being shared with third parties."
You can share this story on social media: