Obama hits campaign trail, audience heckles, leaves early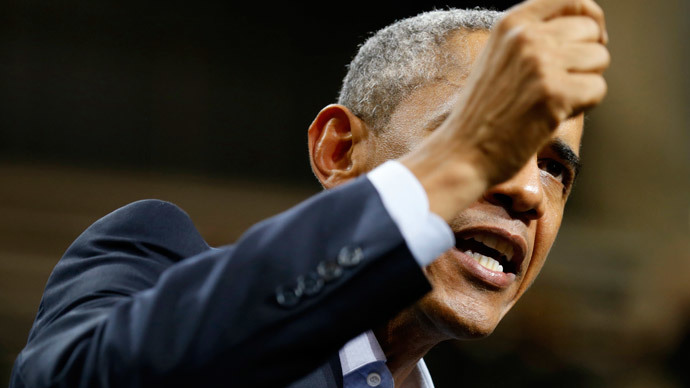 President Barack Obama, whose popularity ratings have hit record lows, failed to rally a crowd for a fellow Democratic candidate, as some audience members heckled and others left the venue in the middle of his speech.
Following a recent string of controversial presidential decisions - including the failure to secure the country's southern border with Mexico as thousands of illegals are granted amnesty, and the mismanagement of the first deadly Ebola case to hit the mainland - it seems that Obama has even managed to alienate constituents of his own party.
READ MORE: Donald Trump calls Obama 'psycho' over Ebola response
This became apparent as the president was delivering a speech against the Republican Party, who are expected to give the Democrats a run for their money in the November 4 midterm elections.
"Who's going to fight for you - that's what it boils down to. Who's going to fight for your future?" he asked at a rally for gubernatorial candidate Anthony Brown in Maryland.
"The only thing they (Republicans) said yes to was another massive tax cut for millionaires," the Democratic said. "I know that's surprising, but that's what happened."
Some in the audience could not conceal their dissatisfaction with America's first black president.
An immigration protester at Obama's rally held a sign reading #not1more, was escorted out; crowd chanting Obama! Obama!

— Katie Zezima (@katiezez) October 19, 2014
A reporter traveling with Obama was quoted by The Hill as saying that some audience members began leaving the auditorium as soon as the president began speaking.
One protester was seen carrying a placard that read "#not1more," which referred to Obama's amnesty plans for thousands of illegal aliens, who reached US territory through the porous border with Mexico.
Critics are asking why Americans must submit to regular body searches at airports and other facilities, while undocumented arrivals from south of the border are entering the country unmolested. At the same time, talk of terrorism and the Ebola virus has not elicited the type of strong reaction expected by the US leader, others say.
READ MORE: Calling Russia 'threat to humanity' puts Obama's sanity in doubt - Medvedev
Other members of the audience, however, expressed their approval of Obama, chanting "Obama! Obama!" the reporter added.
A recent poll by the Pew Research Center indicated that 49 percent of Americans disapprove of President Obama's performance as president.
You can share this story on social media: