Disgruntled employee steals locomotive to 'play chicken' with supervisor, crashes into another train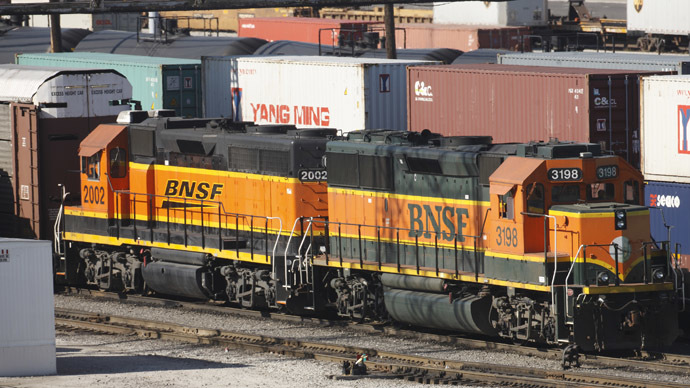 In a case of train robbing that was more Marty McFly than Jesse James, a disgruntled employee commandeered a locomotive from the Wyoming mine where he worked, taking it on a 13-mile joyride before crashing it into a second train.
Derek Skyler Brux was charged Friday with reckless endangering, felony destruction of property and felony destruction, and obstruction or removal of railroad track or fixtures after authorities said he stole a train from North Antelope Rochelle mine and drove it south, the Gillette News Record reported.
The 22-year-old utility coal operator received a call Thursday morning about working conditions from his immediate supervisor at Rail Link, where he had worked for the last three years. He said the call "…really kinda pissed me off" and "sent me over the deep end," according to an affidavit of probable cause filed in Circuit Court.
Brux then channeled his inner Doc Brown and uncoupled two Burlington Northern Santa Fe (BNSF) locomotives from the train cars for a "science experiment" of his own, taking the shortened train off the main tracks and onto what's known as "the loop" at the site, reaching speeds up to 70 miles per hour during his extracurricular excursion. He went "around the loop" and "pretty much squashed the f— outta their scales" and blew the locomotive's horn to alert people, according to K2 Radio.
The disgruntled employee then placed "a very, very, nasty angry call" to his supervisor to "play chicken with her," and joked that she might perceive the call as probably "a little life threatening." After that, he hung up and called the rail dispatch to let them know he would be switching back to the main rail line.
In the affidavit, Brux went on to say that he passed a BNSF maintenance crew and that "they were probably pretty f— scared."
Employees from Peabody Energy Corp. and Burlington Northern Santa Fe LLC. attempted to stop the locomotive between rail mile markers 53 and 58 but were unsuccessful, the News Record reported.
Finally, Brux encountered an idle Union Pacific train on the rails, "hoped no one was on it or under it, and hit it while traveling about 10 mph," K2 Radio said.
"I wanted to see what it was like to hit something, so I hit at it," Brux said in the affidavit.
Then he backed up and crashed into it again, and was about to collide with it a third time when a Rail Link employee was finally able to get on the locomotive and hit the fuel cut-off switch. "And there ended my little escapade" in the train, Brux concluded in the court documents. He then fled the scene on foot.
When deputies caught him, he told them he was having a bad day and was trying to prove a point. They asked Brux if he had thought about taking his own life, to which he answered, "A couple of times," according to the News Record
Brux destroyed two switches that will cost upwards of $60,000 to replace, K2 Radio reported. Damage to the BNSF locomotives are being assessed, while the Union Pacific locomotive did not appear to be damaged. The cost of the "squashed" mine scales or any destruction to the rail line itself has yet to be determined
Reckless endangering is a misdemeanor punishable by imprisonment up to one year, a fine up to $750 or both. Felony destruction of property is punishable by imprisonment of not more than 10 years, a fine of up to $10,000 or both. Destruction, obstruction or removal of railroad track or fixtures is a felony punishable by a imprisonment of not less than one year and not more than 20 years, a fine of up to $10,000 or both.
Brux could also face additional federal charges from the Federal Railroad Administration. A violation of the federal train wreck statute (18 USC Ch. 97 §1992) ‒ or "Terrorist acts or other violence against railroad carriers and mass transportation systems on land, on water, or through the air" ‒ is punishable by up to 20 years behind bars and a $250,000 fine.
He will make his first appearance in federal court in Casper, Wy. on Wednesday.