Bosses beware as workers worldwide seek revenge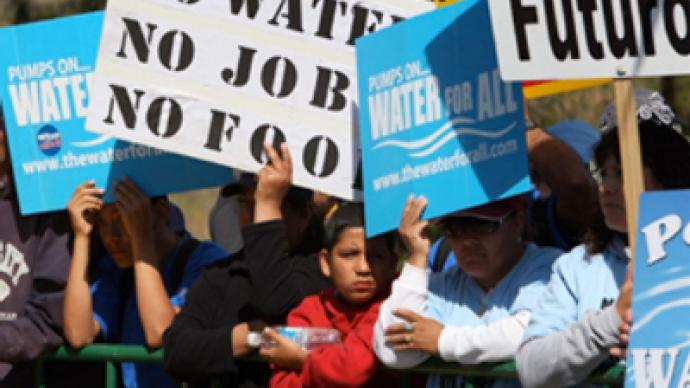 Fear of imminent job losses amid ill-timed "fat cat" bonuses aid a growing feeling that the business elite caused the financial crisis but the workers are paying for it, causing desperate staff to take desperate action.
From "boss napping" in France, to sit-in protests in Belfast, to the surveillance of potentially dangerous staff in New York, it seems that the global recession has sparked hostility in workplaces worldwide, and an air of mistrust is surrounding bosses.
Premeditated protests are being replaced by spontaneous and random acts of revenge, as employees crack under the multiple pressures the financial crisis has brought. Job insecurity, wage cuts, and brutal layoffs means workers are resorting to direct and drastic action.
In France, hostile relationships between employees and employers have always been relatively common, but with the recent barrage of job losses, and with a further 350,000 layoffs predicted this year, antagonistic attitudes toward bosses are rapidly increasing. The phenomenon of "boss napping" in France started in 1968 when in a dispute about rights, several executives were held hostage. But in today's insecure climate, the French are preparing for a "boss napping" revolution. Two of the most recent incidents of this extreme act of revenge saw Luc Rousselet, the director of 3M's French Operations released after being confined for two days and two nights by angry workers, after the company agreed with the union to re-negotiate severance packages. In the same month, the chief executive of Sony France and his PR manager were also held hostage by employees in a conference room for 24 hours after a meeting was spontaneously hijacked by bitter and mistrusting staff.
Patrick Hachaguer of the communist-leaning CGT union said:
"Unfortunately, I think protest movements are going to get more virulent, more violent. People are desperate; they feel companies are staying rich while stealing our jobs. People could start setting fire to factories."
The French government's handling of the situation is extremely unpopular. With offensive actions like the recent vandalizing of a factory by workers becoming more widespread, the government is finding itself under increasing pressure to control the violence, while at the same time demonstrating compassion for those affected.
But resentful employees out for revenge are not confined to Europe. In the U.S, a further 600,000 joined the dole queue this month, and an incredible 20 million people in China were laid off last year. In Canada, workers recently occupied a car-welding factory, and welded the doors shut from inside. Their efforts were rewarded with severance payments of double what they were originally offered. In New York, a financial company had a worker they had laid off followed, fearful of what he was capable of doing to co-workers and managers. According to a spokesperson for the surveillance company involved:
"Tough times will cause people to do crazy things. People are taking more precautions."
The significant downsizing of companies, in which those in managerial positions seem to be the only ones with job security, is fuelling a climate of social tension. Workers are progressively blaming corporate "fat cats" and bankers for creating the crisis in the first place, and then "dumping" them to bear the brunt of it. In Ireland, Greece, Italy, and France, huge marches with placards stating, "We won't pay for their crisis" are a familiar sight.
In Britain, as job losses soar, many angry employees resort to radical action, infuriated at the government that has given banks 1.3 trillion pounds in bailout money while they are expected to survive on 60.5 pounds a week to "job seek." In objection, employees at Prisme in Scotland, Waterford Crystal in Ireland, and Lindsey Oil refinery in England, all occupied their workplaces to protest job losses and severance packages.
Unlike previous recessions, where layoffs affected mostly blue-collar workers, all sectors of employment are currently at risk, and given the rise of "flexible" and "temporary" working contracts, many employees have less severance rights. 32-year-old John Campbell was laid off from a customer serviced-based position in London last October. After being given a pathetic severance package, Campbell and five co-workers resorted to throwing eggs into the manager's office through a window on the roof. Campbell said:
"It was a right laugh getting revenge like that on our arrogant manager who smugly told us we were out of a job – although back then, I didn't think I would still be unemployed seven months later. All the job opportunities are temporary, and the permanent ones are like gold dust. Trying to make ends meet on 60 pounds a week in London is impossible. I am lucky, and have parents who can help me out. A lot of my friends are not so fortunate."
People who have so far escaped the dole queue and are "hanging to their job by a thread," seem to be doing more training than ever in a desperate attempt to keep their jobs. It is little surprise that universities in the UK are experiencing a 25 percent increase in applications this year, as the prospect of securing a job in Britain is dubious.
Trade unions have also been criticized for not doing enough, and in the majority of cases, have not become involved in the protests. Dave Prentis, the general secretary of Unison, the UK's biggest public sector trade union, described the lay-offs as "individual tragedies." While losing a job is, of course, an "individual tragedy," many believe unions should be using their strength to keep these "tragedies" from happening. Barry Humberside, a sales assistant for a large communications company in Newcastle, is appalled that his union did not do more to help the significant number of employees losing their jobs.
"The union should be leading the action to protect jobs, not hiding behind executives feebly agreeing to meagre increases of redundancy packages," said Humberside.
For many destitute workers, who in losing their jobs, may also risk losing their homes and jeopardizing relationships, resorting to extreme action can seem to be their only option. Many "normal" and responsible workers are coming to the conclusion that those who "sow misery, reap fury." As it was the "financial fat cats" who caused the calamity in the first place, workers believe they are within their rights to seek retribution. As Workers Power, a group in the UK campaigning for the rights of workers claims,
"In the boom the capitalists "privatized" the profits. Now in a slump they "socialize" the losses."
Gabrielle Pickard for RT
You can share this story on social media: