'Seen' in New York: Edward Snowden on the run again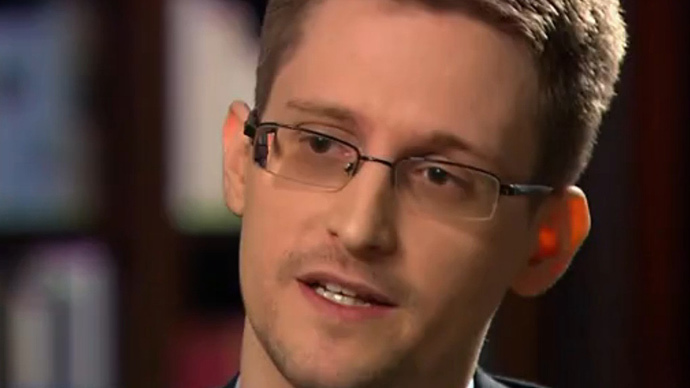 Edward Snowden may not have a Nobel Prize or be able to go home, but he's got a statue in Manhattan and a blockbuster new documentary, where he tells the behind the scenes story of his decision to go public with terabytes of classified government docs.
New Yorkers got a strange surprise on Friday when a 9-foot hunk of white drywall appeared in Union Square in an art piece dedicated to Edward Snowden, the man who told the world just how much the US government is watching and listening in on our every move.
New Yorkers can also catch him on the big screen - the documentary about his massive document leak, "Citizenfour" debutedin the city on Friday. The film gives hope for his love life, as it depicts him reunited with his dancer girlfriend in Moscow.
Briefly on display in Union Square Park in lower Manhattan, the NSA whistleblower's statue was positioned awkwardly with his hands slumped in his pockets and an inquisitive look on his face.
There is an Edward Snowden sculpture in NYC, and nobody was able to recognize him. http://t.co/Ufaa0r1HMZpic.twitter.com/YNjJrN1ZlS

— Joseph Weisenthal (@TheStalwart) October 10, 2014
Snowden stood opposite a statue of President Abraham Lincoln for precisely two hours, until the artist, Jim Dessicino, was evicted for not having the proper license. The exhibition was scheduled to run until Sunday.
Delaware resident Dessicino was impressed with Snowden's decision to reveal the massive amount of spying the US government conducts on its own (and other countries') people.
"What he did is possibly the most significant act of anyone from my generation," Dessicino told New York-based Business Insider. "He put truth over the rule of law and committed a huge self-sacrifice."
Snowden, who now resides at an undisclosed location in Moscow, left his family, friends, and home when he leaked the information about US surveillance programs, flying to Hong Kong and eventually to Moscow.
"It's a bigger philosophical issue about history and how people are represented through sculpture," the artist said.
Naturally, one of the first people to see the statue was Glenn Greenwald, the journalist who (along with filmmaker Laura Poitras, the author of "Citizenfour" documentary) first took Snowden's NSA spying story public with The Guardian.
So, @ggreenwald & I were having breakfast & a truck pulls up with a statue of Edward Snowden: pic.twitter.com/AkRW0Gs2Do

— jeremy scahill (@jeremyscahill) October 10, 2014
The towering statue, which will continue to travel to other parts of the city, is part of the festival "Art in Odd Places," which, unsurprisingly, shows… art in odd places.
You can share this story on social media: