Women face charges for anti-drone protest near NSA facility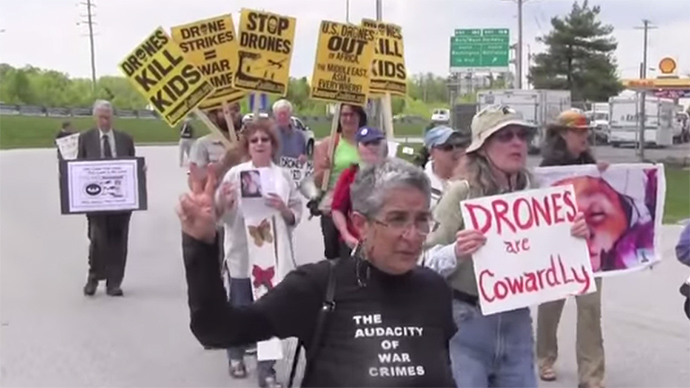 Three women who protested the United States' use of drones are now facing federal charges – and $1,300 each in fines – after being accused of trying to enter the National Security Agency's protected property in Maryland.
The original protest happened back in May, but New Jersey's Manijeh Saba and Baltimore residents Marilyn Carlisle and Ellen Barfield – a US Army veteran – appeared in US District Court on Thursday to defend themselves against several charges, according to NJ.com.
While protesting outside of Fort Meade, Maryland, the three women tried to deliver a letter that called for a meeting with National Security Agency Director, Vice-Admiral Michael Rogers. The protesters wanted to express their opposition to the NSA's drone targeting methods, but law enforcement officials claim the women attempted to enter protected property without authorization.
READ MORE: 'Drone-Free LAPD!' LA residents protest police spy drones
As a result, they were arrested and charged. The women were also charged for failing to comply with a lawful order, as well as for participating in disorderly conduct on protected property.
Although the protesters will receive advice from an attorney, they will all be representing themselves in court.
"This is important to me because the usage of drones as killing machines is offensive, particularly as used by our government to violate sovereign nations against international law," Saba told NJ.com. "It's dangerous and creates havoc to the people in those countries and to our own."
Saba, an Iranian who moved to Canada before making her home in the US and becoming a citizen, said it is important to speak out against violence conducted by America.
"Every morning I think about who is being killed, tortured and what our government is doing and how people are reacting to us," she added. "Our Constitution says that we need the pursuit of happiness but our government does everything but that. People are forced to have security systems on their homes and cars despite billions of dollars spent by this country for their protection."
READ MORE: NY judge pelted with hate letters after giving anti-drone protester 1yr jail time
Opposition to drones continues to rise as their use by the US persists both in overseas conflicts and domestically by police. Earlier this year, a 58-year-old woman was sentenced to one year in jail over her involvement in anti-drone protests, which spanned the course of a year. After the woman's sentence was announced, the judge involved was flooded with hate mail – including anti-Semitic statements – from those who disagreed
Meanwhile, residents in Los Angeles protested their police department's use of drones this past August, arguing they would lead to further police militarization and encroachment on privacy.