'Drone-Free LAPD!' LA residents protest police spy drones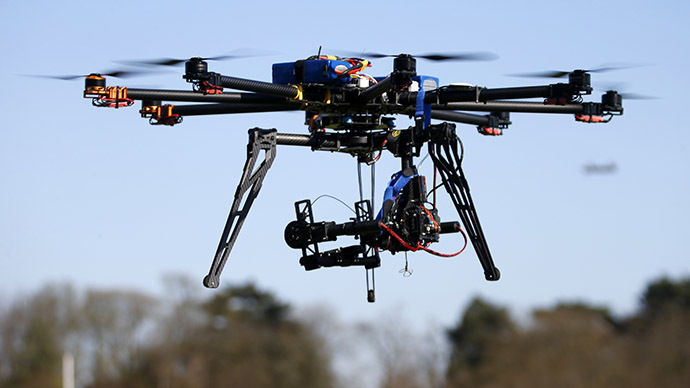 Protesters against the use of drones by the Los Angeles police department have gathered in front of LA city hall to demand security forces do not deploy them to spy on citizens.
The LAPD received two cutting-edge Draganflyer X-6 drones from Seattle from federal grants back in May.
The rally was organized by the Stop LAPD Spying Coalition.
Demonstrators gathered at the entrance to City Hall on Thursday, urging LA mayor Eric Garcetti to come and meet them. "Drone-free LAPD," protesters chanted.
"What's going to happen when they have a drone that you can't ever [sic] hear is around, that can come into close radius?" protester Jamie Garcia told NBC.
"What are they going to do with this data? They haven't told us," he added.
Anti-spying coalition launches campaign against LAPD drones http://t.co/vstKvBWsp6@stoplapdspying@NoDRONESlapic.twitter.com/MDAQDxVqDV

— n.o.m.b.y. (@nomby) August 22, 2014
Protesters also say the drones are very small, aren't easy to notice, and are much cheaper than the helicopters the police usually use.
Activists in Los Angeles cite similar protests in Seattle, which forced that city's mayor to cancel plans to use the UAVs (unmanned aerial vehicles).
READ MORE: California man uses surveillance drone to keep an eye on cops from above (VIDEO)
The first letter by the Stop LAPD Spying Coalition expressing discontent appeared just over a week ago.
"LAPD has a long history of lies, brutality, and violence against communities. We demand LAPD not to be allowed to add drone technology to its expansive arsenal of weapons and surveillance equipment," the letter states.
The group also believes the drones will militarize the city's police considerably more than it is already.
"We believe the acquisition of drones signify a giant step forward in the militarization of local law enforcement that is normalizing continued surveillance and violations of human rights of our communities," coalition spokesman Hamid Kahn told CBS.
LA mayor Eric Garcetti hasn't answered the letter.
LAPD, in their turn, said the drones are stored for the moment, with spokesman Bruce Borihahn stating, "We're not even in possession of these things."
Anti-police drone press conference outside LA City Hall this morning pic.twitter.com/Etk9Fcb5ka

— Joe Serna, LAT (@JosephSerna) August 21, 2014
He added that the drones won't be deployed before a "lengthy approval process" by the police commission, LAPD Chief Charlie Beck and civil rights groups.
Back in June, Beck pledged that the drones will only be used in manhunts and standoffs. Police also say that the drones can only remain airborne for 20 minutes, CBS Los Angeles reported.
"The Los Angeles Police Department will never, ever give up public confidence for a piece of police equipment," he said.
Also in June, the American Civil Liberties Union of Southern California praised LAPD transparency concerning the devices, but expressed worry over the potential breach of privacy, the executive director of the body, Hector Villagra, stated.
You can share this story on social media: