California man uses surveillance drone to keep an eye on cops from above (VIDEO)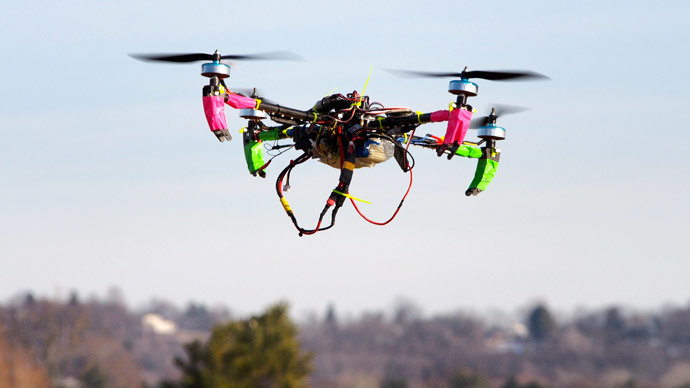 The Los Angeles Police Department is waiting for approval before it begins using a pair of recently acquired unmanned aerial vehicles to monitor events in Southern California, but a local man has already beaten them to the punch.
Forty-two-year-old Daniel Saulmon of Torrance, CA has been using a camera-equipped drone of his own during the last month or so to get a bird's-eye-view of area happenings from high above the ground. Coupled with a passion for photographing police activity, Saulmon's unusual hobby has made him well known among local law enforcement officials.
"If there's police activity in my area that's close by, I generally will go and try to record it and document what I see," Saulmon recently told local news network KTLA.
"I don't want to say the police don't supervise themselves, but in a way there might be a little bit of truth to that," he added.
Indeed, from the Rodney King beating more than two decades ago to the massive manhunt law last year for suspected cop killer Chris Dorner, the LAPD has not had an easy time avoiding scandal. Despite ongoing issues pertaining to police brutality and abuse, however, amateur photographers who set out to surveill law enforcement officials in the area have undergone heavy duty harassment in recent years and, as RT reported in the past, have even been considered terrorists according to official LAPD policy.
Saulmon has for years been recording police activity with a handheld, run-of-the-mill video recorder, and his footage has routinely found its way to the web and attracted thousands of hits. Now his newest aerial footage is starting to make the splash.
One of Saulmon's most recent videos uploaded to YouTube is drone-filmed footage of police in Gardena, CA conducting a DUI checkpoint. So far it's been viewed more than 33,000 times and is included on a playlist of more than 300 videos uploaded by Saulmon to an account administered under the alias "Tom Zebra." Other clips posted to his page include aerial footage from outside LA's Staples Center and drone-captured video taken from outside and on top an Air Force base in the city of El Segundo where he also captured an encountered with investigators not too happy with the UAV hobbyist.
In a profile published in the Los Angeles Times this week, journalist Joseph Serna wrote that Saulmon's "recordings are well known to South Bay officers."
Nevertheless, Saulmon said that he believes he's working well within the legal constraints right now. The Federal Aviation Administration, or FAA, has asked hobbyists to keep personal drones within sight if they're soaring in US airspace, and the agency is still drafting rules for commercial drone use.
"My attorney told me there isn't really much regulation on them," Saulmon told the Times. "I don't think it's a substitute for a hand-held camera, but it's definitely a complement."
"I have to use common sense with it," he added. "It's easy to fly. I would have to really go out of my way to be reckless and cause a problem with it."
On his YouTube page and website, however, Saulmon shows that he has without a doubt landed himself in trouble with the law more than once. His "Mistaken Bacon" site shows countless confrontations with cops stemming from Saulmon's amateur recordings, and on his Facebook profile he openly discusses numerous run-ins with the LAPD and other officers of the law that have yielded arrests and threats alike. According to a post on the Photography Is Not A Crime website, Saulmon was arrested six times for video recording the police as of last August. During the recently KTLA news report, anchor Kimberly Cheng said the charges have never stuck.
"I don't care how many times they arrest me, I'm not going away," he told the website at the time. "I'm going to get as close as I can to see what's going on so they will stop violating people's rights."
Less than a year later, Saulmon has accomplished as much not be acquiring telephoto lenses, but by taking to the sky. Jennifer Lynch, an attorney with the Electronic Frontier Foundation, told the Times that others may soon follow suit.
"Once drones become widely used in our society, there's going to be a lot of concern," Lynch told the paper this week. "It's because they're so in-your-face. It's easy to see the drone, it's easy to recognize the privacy implications."
Meanwhile, the LAPD is still struggling with adopting their own rules before a pair of drones it plans to deploy during area emergencies. The office acquired the aircraft from the Seattle Police Department recently, but LAPD Chief Charlie Beck said that he "will not sacrifice public support for a piece of police equipment" and plans to "thoroughly vet the public's opinion on the use of the aerial surveillance platforms" before the drones are adopted.
The FAA expects that as many as 7,500 hobbyist drones could be traversing American airspace during the next half-decade.
You can share this story on social media: