​Bubble trouble: Man 'running' to Bermuda rescued off Florida coast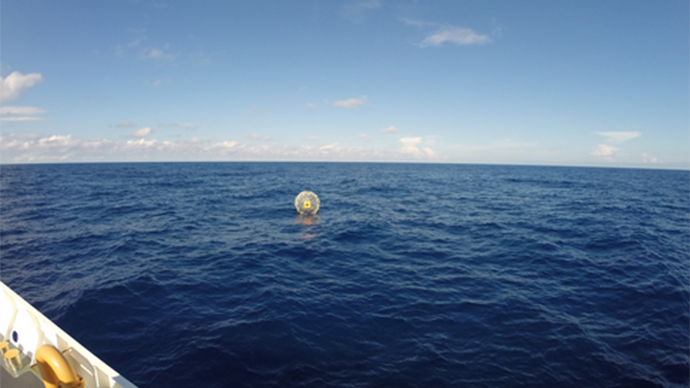 A man trying to reach Bermuda Islands from Miami on foot in a home-made floating bubble has been rescued by the US Coast Guard after he began suffering from fatigue.
Reza Baluchi, an activist and endurance athlete of Iranian origin, intended to travel 1,033 miles (1,660km) on foot from Miami to Bermuda to Puerto Rico and back to the mainland US, to raise money for "for children in need" and "to … inspire those that have lost hope for a better future," according to his website.
He built a floating device for the purpose made of 3mm-thick plastic and aluminum framing, not unlike a hamster wheel. Baluchi planned to sleep in a hammock at night, complement his diet of protein bars with fish he could catch, and cool himself in the sea strapped to the bubble with a leash.
Coast Guard rescues man in Atlantic Ocean trying to "run" to Bermuda in an inflatable bubble. http://t.co/7FOOUyiWXApic.twitter.com/k8WAhucexj

— Miles Doran (@MilesDoran) October 4, 2014
The Coast Guard first received reports of a man in a bubble on Wednesday, Florida's 7th Coast Guard District reported. When they approached him, Baluchi seemed disoriented and asked for directions to Bermuda, but refused to leave the bubble.
On Saturday morning Baluchi's Personal Locating Beacon was activated, and the guard, who continued monitoring his advance, dispatched an airplane and a helicopter to the rescue. He was picked up 70 nautical miles east of St. Augustine and flown to Air Station Clearwater, where emergency medical services evaluated him. No injuries were reported in the operation.
Baluchi's website says he tested the 'Hydro Pod' device back in 2013 by traveling from Newport Beach to Catalina Island. The 33-mile (53km) trip reportedly took approximately 12 hours, over which Baluchi lost 15lbs (6.8kg).