NASA astronaut shares stunning time-lapse videos of polar aurora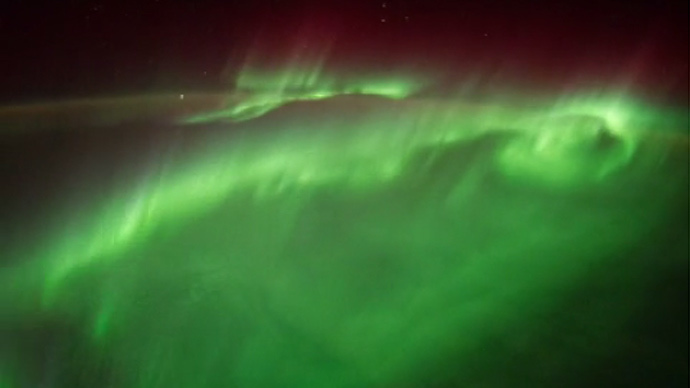 NASA flight engineer Reid Wiseman has published jaw-dropping time-lapse videos of the polar aurora, as seen from the International Space Station (ISS).
The time-lapse videos published on Vine give a glimpse of the polar aurora from the ISS as it passes the amazingly beautiful phenomenon in the northern hemisphere.
In the videos, one can see the greenish white ribbons of the aurora – also known as the Northern Lights – haloing our planet.
American astronaut and engineer Weisman has been stationed on the ISS since May. Being a Vine social network lover, he was the first astronaut to post a video of our planet from the ISS in June.
The footage, which depicted the ISS circling the Earth, went immediately viral, gathering thousands of 'likes' and 'shares.'
Since then, Weisman has been regularly posting videos and images to Vine and Twitter – not only of views from the ISS, but also of daily life in space.
In one of the latest videos, he experiments with fluids in a container that amusingly react to the artificial gravity on the ISS.
Fascinating to watch fluid impulse response in micro-gravity. #SpaceVine combines #science and beauty. https://t.co/wPYTOeuLhO

— Reid Wiseman (@astro_reid) October 2, 2014