Rash of New Jersey suicides blamed on poor bridge design
Published time: 3 Oct, 2014 01:42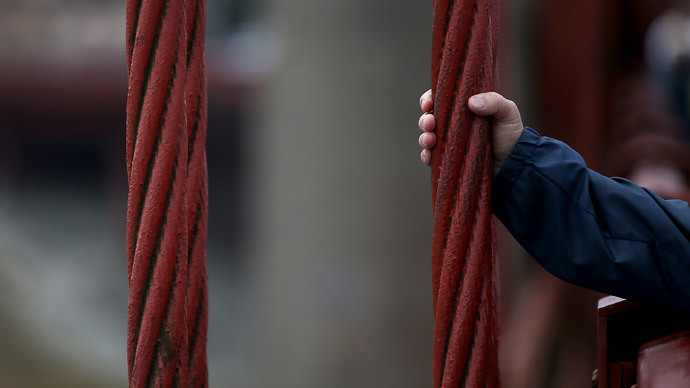 Hundreds of New Jersey families rallied over the weekend to protest multiple suicides on a bridge they say is so poorly designed it is making suicide easy.
At least 82 people have attempted suicide on New Jersey's Victory Bridge, and 22 have succeeded since its redesign a decade ago. The redesign created a 110-foot-high span that has no barrier, light traffic, a parking space close by, and a style of railing that forms a stepladder. All of those factors could have contributed to the suicide of Giancarlos Taveras, 16, who is believed to have jumped from the bridge nearly two weeks ago. His body was found on the rocks below on September 20.

Taveras' death prompted hundreds of Perth Amboy residents to gather for a rally on Sunday, calling for a barrier to be erected. Two days after the march, two more suicide attempts were made.

Perth Amboy officials have repeatedly asked the New Jersey Department of Transportation, which maintains the bridge, to install a barrier. Originally designed as a drawbridge, it was redesigned in 2004 with a span allowing taller ships to pass underneath. Omitted in the redesign was any kind of railing.
READ MORE 'Best solution': Elderly Belgium couple plan joint euthanasia
Perth Amboy Mayor Wilda Diaz, along with elected officials and the police commissioner, met with the New Jersey commissioner of transportation on Monday to discuss the bridge – not only for the pain it is causing families, but also for the financial burden its causing the city as a result of search and recovery operations, according to myCentralJersey.com.

"We want to see some kind of barrier, fencing or mesh. We want them [state officials] to make this a priority. The state built the bridge they should be responsible for it," said Diaz.

Diaz would also like a state trooper on the bridge 24 hours a day, seven days week, so the state can experience some of the costs involved in recovery efforts. According to Diaz, the commissioner said he would look into the problem.
READ MORE: Scary FBI stats: Mass shootings nearly tripled in last 7 years, mostly at schools
This is not the first time Diaz and residents have demanded help. In February 2011, a resolution was sent to Governor Chris Christie and the NJ State Assembly requesting a fence along the Victory Bridge. Installed instead were several phones along the bridge directly connected to suicide prevention hotlines.

Perth Amboy resident Dorothy Carty Daniel, however, has been petitioning to have a barrier or fence installed since the bridge was being built.

"I asked the council and mayor to petition the state to do something about it," Daniel said. "I told them they shouldn't build a suicide bridge. I told them they should encapsulate it, but nobody listened."
READ MORE: Thousands of Brits attempt suicide while waiting for help