'Best solution': Elderly Belgium couple plan joint euthanasia
An octogenarian Belgian couple has chosen to end their lives through assisted suicide rather than risk the chance of dying alone. Their children have reportedly backed their decision.
Francis, 89, and Anne, 86, neither of whom are terminally ill, have received the full support of their three adult children, who say they would be unable to care for either parent if they were to be widowed, the Daily Mail reports.
While neither one of them is terminally ill, both have suffered from various ailments, many age-related. Francis has received treatment for prostate cancer for the past two decades and is dependent on morphine. Ann, meanwhile, is partially blind and totally deaf.
Neither is bed-ridden, though they never leave home alone in fear that one of them might not return. They say the cost of a good retirement home would be prohibitive, while moving into a care home could prevent them from fulfilling their wish to die together if they became too infirm to insist on their own will.
They intend to end their lives on February 3 – their 64th wedding anniversary.
"We want to go together because we both fear for the future," Francis told the Mail. "It's as simple as this: we are afraid of what lies ahead. Fear of being alone and above all, fear of the consequences of loneliness."
Speaking with Moustique, a Belgian online news service, the couple said that they had chosen euthanasia, and not suicide, out of fear.
"It takes courage to jump from the 20th floor, and I'd be unable to even if I wanted to do it," said Francis.
"It takes courage to hang, it takes courage to jump into the canal. But a doctor who makes you a shot and lets you gently fall asleep? It does not take courage."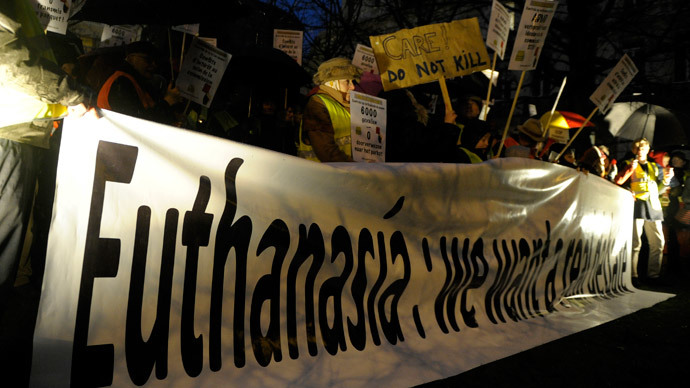 Their children have aided them in their quest to find a doctor amenable to their wishes. Their son, John Paul, 55, approached their doctor to request assisted suicide. While the practice was first legalized in Belgium in 2002, the doctor refused, saying there was no grounds to do so.
John Paul ultimately managed to find a doctor to perform the procedure at an unidentified hospital in Flanders – the Dutch-speaking northern part of Belgium. Roughly 82 percent of all mercy killings take place in the region.
The couple has insisted they are not doing it out of desperation, and are in fact "happy."
Their daughter told the daily they were planning out their deaths as giddily as one would anticipate a holiday.
John Paul said the simultaneous euthanasia of his parents was the "best solution."
Belgium has pioneered the practice of assisted suicide, sparking wide-ranging ethical debate on the practice. In March, King Philippe of Belgium signed into a law a bill allowing chronically ill children to be euthanized.
Although the bill was fiercely opposed by religious groups, it received wide support from the Belgian people. According to a survey taken not long before the bill was signed into law, a survey found that 75 percent of Belgians supported the child euthanasia measure.
Assisted suicide requests in Belgium have been rising over the past years, AP cites a government report as saying. From 2012 to 2013, the number of cases jumped from 1,400 to 1,800 – more than a 28 percent increase.
The majority of patients requesting it suffered from cancer. Sixty-seven applicants who were granted assisted suicide, however, cited psychological disorders.
These disorders included patients with Alzheimer's, Huntington's, dementia and psychosis, the report said.