Belgium set to pioneer age restrictions lift on euthanasia
Belgium, one of the first countries to legalize euthanasia in 2002, is this week expected to make the unprecedented decision of lifting all age limits on euthanasia, allowing the practice for children.
The amendment to the 12-year-old law, supported by two-thirds of the Belgian population, is expected to be voted up on Thursday, following a day of final debating.

If passed in the parliament, the law would still have to be signed by King Philippe, Belgium's constitutional head of state, before it comes into force. His opinion is not known, as he never has his position voiced on any bill discussed in the parliament.

In December, the overwhelming majority of the upper house of the Belgian parliament approved the proposal in a 50-17 vote.

Under current law, only terminally ill patients who turned 18 have the right to request euthanasia. The amended version would have no age limit imposed. In this way, Belgium is going to extend euthanasia further than the Netherlands, where children from the age of 12 are allowed to request mercy-killing.

Lifting the age limit, the Belgian law simultaneously stipulates a number of restrictions, which would apply to minors: a parental consent would be needed and psychiatrists would have to prove a child had "a capacity of discernment" when a request was made.

The minor must "be in a hopeless medical situation of constant and unbearable suffering that cannot be eased and which will cause death in the short term," the bill reads, according to AFP.

Among those who support the bill is Dr. Gerland van Berlaer, a prominent Brussels pediatrician and head of the pediatric critical care unit of University Hospital Brussels.

"We are talking about children that are really at the end of their life. It's not that they have months or years to go. Their life will end anyway," Van Berlaer, told AP. "The question they ask us is: 'Don't make me go in a terrible, horrifying way, let me go now while I am still a human being and while I still have my dignity.'"

Proponents of the bill assure that it will only apply to a very small number of children who are in advanced stages of cancer or other terminal illnesses and suffering unbearable pain.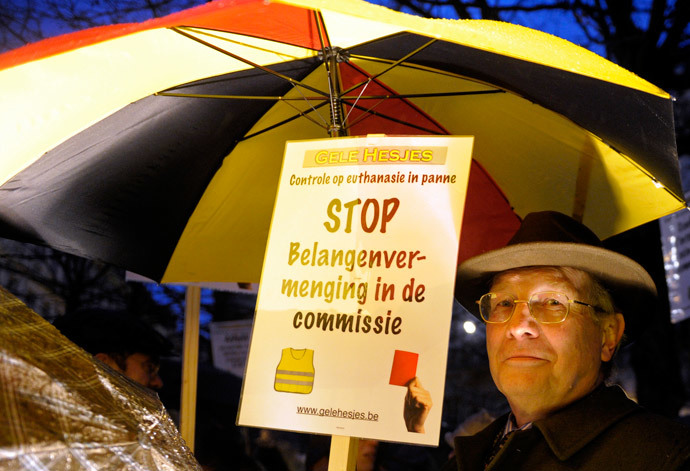 Belgians opposing the bill might be fewer than its backers, but they are certainly vocal, with some of them staging street protests. They question the implementation of the law.

"If you take three psychiatrists, one of them will end up approving [euthanasia]," Etienne Dujardin, 29, one of protest organizers told AP. "In the name of promoting freedom for children, we're letting someone else decide."

This week 160 Belgian pediatricians signed an anti-bill open letter, arguing primarily that modern medicine is able to relieve even the worst pain. Church leaders have also strongly opposed the bill.

"The ever-increasing opportunities for legal recourse to euthanasia rather mean opening the door to a new kind of barbarism: a choice welcomed by the society of self-elimination of the sick and weak people," the Community of Sant'Egidio, which includes over 60,000 Christian lay members in 70 countries, said in its December statement.

Belgium has seen the number of euthanasia cases in adults dramatically grow over the years. Back when the law was adopted a decade ago there were around a couple hundred people who requested mercy-killing. Last year there were a record 1,432 cases of euthanasia in Belgium.

The country has also reported a surge in cases of euthanasia on psychological grounds. There were only six such requests in 2004 compared to 52 in 2012.

The Netherlands pioneered legalizing euthanasia in 2002. Belgium swiftly followed suit the same year. Luxemburg became the third, and so far the last, country to make the practice legal in 2009.
You can share this story on social media: