Suicide of elderly couple reignites euthanasia debate in France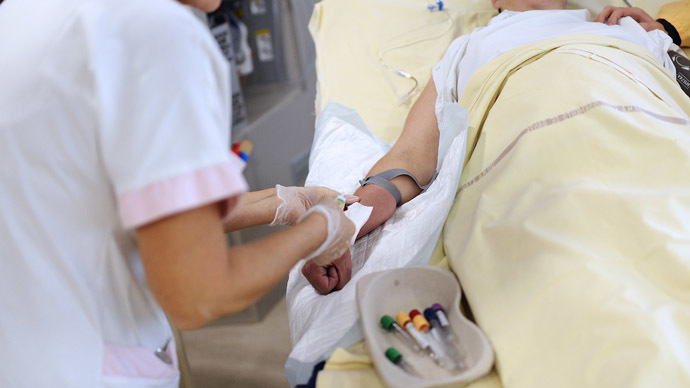 The suicide of an 86-year-old couple has fueled and fanned the flames of the euthanasia debate in France. Earlier President Francois Hollande had promised to submit a bill on the issue in parliament by the end of 2013.
Georgette and Bernard Cazes, both aged 86, committed suicide in a room of the world-famous Hotel Lutetia on Friday.

French media differ in their opinion about the cause of death. Some sources report that the couple, who had been married for more than 60 years, took medication which allegedly induces a painless death, while others claim that the bodies were found with plastic bags over their heads.
Georgette and Bernard were found by a member of staff. They had ordered breakfast to be delivered to their room in the morning to ensure they would be found quickly, reports Le Parisien newspaper.
It turned out that the couple had planned their deaths in "meticulous detail", say the police who found two letters left by the couple in the hotel room. The first letter was meant for the couple's family while the other one, addressed to the authorities, contained a demand to legalize euthanasia in the country. 
Active Euthanasia - causing the death of a person through a direct action, in response to a request from that person.

Passive euthanasia - hastening the death of a person by altering some form of support and letting nature take its course.

Physician-assisted suicide (also known as voluntary passive euthanasia) - supplying information and/or the means of committing suicide to a person, so that that individual can successfully terminate his or her own life.
"Isn't my freedom only limited by the freedom of others? By what right can they prevent a person from ending their life peacefully, when they've paid their taxes, have no debts to the state, have worked all their lives, and then done voluntary service?" wrote Georgette Cazes .
According to the couple's son who they asked to follow the case in their last letter, Georgette and Bernard Cazes were determined to die together and thus had been planning their suicide "for decades".

"They feared being separated or dependent, more than they feared death," he said.
The pair was described by their friends as "brilliant intellectuals" – Georgette was a teacher of literature and Latin and Bernard was an economist and philosopher.
Longstanding euthanasia debate in France
The death of the elderly couple in Paris has given new momentum to the euthanasia issue, but the practice remains officially illegal in the country.
The so-called Leonetti law passed in 2005 opposes starting or continuing "unnecessary or disproportionate" treatment "with no other effect than maintaining life artificially". So far it has been the only attempt to solve the euthanasia problem in France.

Recent opinion polls indicate that between 56 percent and 92 percent of French people broadly support allowing the practice for those suffering from an incurable illness, France 24 reports.
France's national demographics council says that every year there are over 3,000 illegal euthanasia cases throughout the country.
Last year President Hollande ordered a study on euthanasia which lasted for 6 months and concluded that active euthanasia should remain completely banned.

However, a new official inquiry on the issue is expected to be released on December 16 this year.
Moreover, Hollande has promised to submit a bill on assisted suicide to the French parliament by the end of the year. He also said France would hold a national debate on the issue.
The only countries in Europe that currently allow carrying out active voluntary euthanasia are the Netherlands, Belgium and Luxembourg. Physician-assisted suicide is legal in Switzerland.
Jean-Luc Romero, president of the Association for the Right to Die with Dignity, told The Local on Monday that France needs "a new law which allows people in similar circumstances to this couple to be able to seek assistance from doctors and to pass away peacefully and with dignity."
"Unfortunately, the fate of this couple is typical. There are many elderly French people who are forced to take their own lives," he said.
You can share this story on social media: