California drought may leave entire communities with no water in 2 months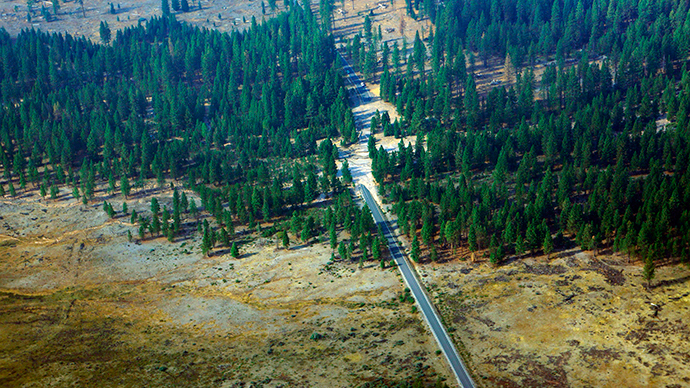 A growing number of communities in central and northern California could end up without water in 60 days due to the Golden state's prolonged drought.
There are now a dozen of small communities in Central and Northern California relying on a single source of water – which has the water resources board concerned they will not have any at all in two months' time.

At a mobile home park north of Oroville, more than 30 families are severely cutting back. The water supply is so tight it is shut off entirely between 10 pm and 5 am, according to CBS Sacramento. The families are relying on one well – all the others have dried up – and have to drive five miles to buy drinking water for themselves and their animals.
READ MORE: Nestle continues to sell bottled water sourced from California despite record drought
In January, Gov. Jerry Brown (D-Calif.) declared a drought state of emergency in preparation for water shortages, in particular during the summer months. The drought has entered its third year, and water restrictions have increased in the state.

Nearly all urban areas in California have made considerable water conservation efforts, including mandatory limitations on water consumption, rationing, re-allocations of water to most essential crops and distribution guidelines for everyday use.
READ MORE: Severe drought in California spreading at unprecedented rate

Now it is harvest time in California, but because of the drought many crops are anticipated to be smaller this year. About five percent of land went unplanted, and there are shrinking orange and pistachio crops, reported the Sacramento Bee.

One fourth – or 140,000 acres – of California's rice field went fallow, which is expected to have an effect felt both nationwide and internationally, as the Golden State both provides rice to restaurants across the US and exports it to Asia. Estimates are, smaller crops and increased water costs will cut $2.2 billion from the $44 billion a year agricultural business.

"Nobody has any idea how disastrous it's going to be," Mike Wade of California Farm Water Coalition told the Associated Press. "Is it going to create more fallowed land? Absolutely. Is it going to create more groundwater problems? Absolutely."

Stanford University scientists say they might have an answer about California's drought – and it is greenhouse gases.

Using climate model simulators, they found that high-pressure ridges like the one that remained over the Pacific Ocean for the past two winters, blocks storms from hitting California, and are much more likely to form in the presence of man-made greenhouse gases, according to a report they published Monday.

The phenomenon they claim also caused rain to bypass Oregon and Washington, and instead land in the Arctic Circle.

"You can visualize it as a fairly large boulder in a small stream," said Daniel Swain, a lead author on the report.

However, not everyone agrees. Marty Hoerling, a research meteorologist with the National Oceanic and Atmospheric Administration, was cited by Reuters saying that atmospheric pressure has increased everywhere due to global warming, so the systems need to be studied in that context.
READ MORE: Southwest could face decades-long megadrought – study
You can share this story on social media: