Southwest could face decades-long megadrought – study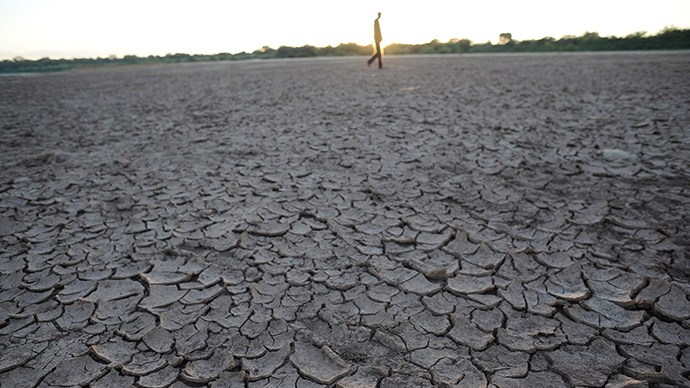 Areas in the southwestern United States face an 80 to 90 percent chance of a decade-long drought by the year 2100 if greenhouse gas emissions continue at their current levels, according to a new study.
Regions of California, Nevada, Arizona, and New Mexico face deep dry spells should global warming continue apace, according to a new study published in the Journal of Climate Science.
"A drier Southwest is also a Southwest at risk of a megadrought," said study author Toby Ault, a climate scientist at Cornell University.
Researchers used computer models to examine historical climate records in the area. A decade-long drought usually happens about once a century. Abnormally high temperatures inflicting the Southwest are increasing the risk of a decade of water shortages.
But as temperatures rise and water evaporates, the study found, the risk of a 50-year megadrought increases from one or two per thousands of years to between 5 and 10 percent by the year 2100.
The study only takes into account a decrease of precipitation, so conditions could end up being worse as the region's rivers and lakes dry up.
For the Colorado River - which supplies water to 40 million people in eight Southwest states - to completely dry up, there would need to be 35 consecutive years of drought, according to the Las Vegas CBS affiliate.
"I view a megadrought as another type of natural hazard, but it's a hazard that moves in slow motion," Ault said. "It unfolds over decades. Like many other hazards we face, we can adapt to it, prepare for it and plan for it."
California is already in the throes of an unprecedented water shortage that could cost the state well over $2 billion in agricultural and other economic losses, according to recent research from the University of California-Davis.
The US Drought Monitor recently noted that 58 percent of California is experiencing "exceptional drought," which is the most serious category on the agency's five-level scale.
Globally, unless swift action is taken, the competing demands of drinking water and energy demand will cause acute water shortages in many areas of the world, according to recent research from Denmark's Aarhus University, the Vermont Law School, and the US Center for Naval Analyses.