World faces 'insurmountable' water crisis by 2040 – report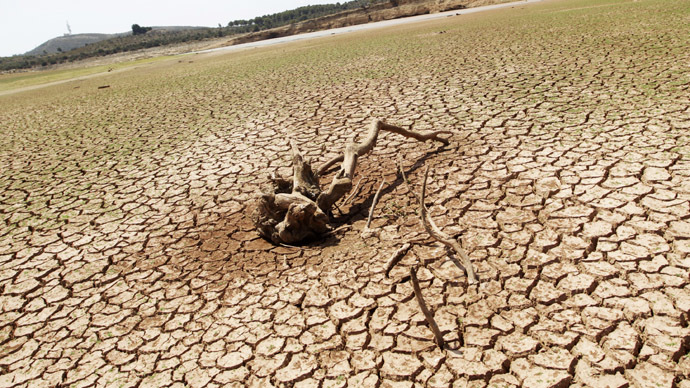 The world will face a severe water crisis in less than 30 years if it does not reduce water-intensive electricity production, which will cause widespread drought, new research says.
Unless countries take swift action, the completing demands of drinking water and energy demand will cause acute water shortages in many areas of the world, according to researchers from Denmark's Aarhus University, the Vermont Law School and the US Center for Naval Analyses.
Over the past hundred years, the world's population has increased three times but there has been a sixfold increase in water consumption. If present trends continue there could be a 40 percent gap between water supply and demand by 2030. The effects of increasing water consumption will be made even worse by climate change.
"Three years of research show that by the year 2040 there will not be enough water in the world to quench the thirst of the world population and keep the current energy and power solutions going if we continue doing what we are doing today," said Bejamin Sovacool, director of the Center for Energy Technology at Aarhus University in reference to the dual reports released Tuesday.
The report recommended that nuclear power and coal, which use an excessive amount of water for cooling purposes, should where possible be replaced by wind and solar, which use virtually no water.
The research stated that "electricity generation from thermoelectric power plants is inextricably linked to water resources."
In many countries, including the energy-guzzling US, energy production is by far the biggest source of water consumption, bigger even than agriculture. In 2005 41 percent of all water used in the US was for thermoelectric cooling.
Drought-prone Texas gets 33 percent of its power from coal, 48 percent from natural gas and 10 percent from nuclear. But it is also rapidly developing wind energy. In 2011, Texas experienced its worst drought on record but didn't suffer blackouts because it generated just enough electricity from wind, which on some days was as high as 18 percent.
In March 2014, Texas hit a record high of wind production, producing 37 percent of its electricity with it; largely thanks to advanced weather forecasting and a new transmission line.
Ultimately, the scientists warn, in a world of limited water supplies we'll have to choose what to do with it.
"Do we want to spend it on keeping the power plants going or as drinking water? We don't have enough water to do both," Sovacool said in the release.
But there are some things we can do to make better use of the water that is available, the report says.
There needs to better research on how much water power stations actually use and research on alternative cooling systems particularly in nuclear power, as well as massive investments in wind and solar and in improving energy efficiency.
"If we keep doing business as usual, we are facing an insurmountable water shortage – even if water was free, because it's not a matter of the price," Sovacool said. "There will no water by 2040 if we keep doing what we're doing today. There's no time to waste. We need to act now."
You can share this story on social media: