Texas woman breaks windshield to save baby from hot car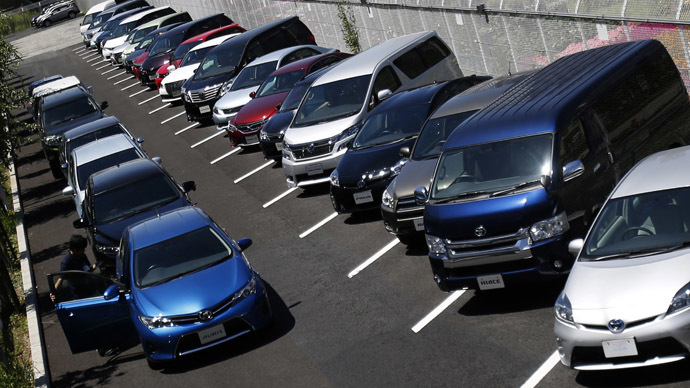 A one-year-old baby has been rescued from a hot, parked car by a woman who broke the windshield, crawled into the car and unlocked the door. The woman ignored warnings from security guards and the apprehension of onlookers.
"I don't care if I get arrested, I'm going to save this baby," Angela Radtke said, as quoted by local media outlet KENS 5.
Police questioned the woman after the incident, but she was freed shortly because of a Texas 'good Samaritan' law.
The baby had been in the car for almost 40 minutes, H-E-B (a large supermarket chain in Texas and Mexico) Surveillance footage showed. Witnesses at the scene also stated that H-E-B staff attempted to reach the infant's parents over the PA system. However, they only returned to the car some time afterwards.
The baby was taken to the Methodist Children's Hospital, treated for dehydration and is to be placed in the custody of Child Protective Services.
Woman smashes window to save tot in hot car STORY: http://t.co/ELRIfr1VmXpic.twitter.com/fCCnAVxnkt

— WFAA TV (@wfaachannel8) September 22, 2014
The baby's father admitted that he'd forgotten that the baby was in the car. The man is now being charged with child endangerment a third-degree felony, according to KENS 5.
Each year there are dozens of cases of parents leaving their babies in cars across the US: at least 27 have so far been recorded in 2014, and 44 in 2013, according to the statistics published by Department of Meteorology and Climate Science.
Brava!!! "@wfaachannel8: Woman smashes window to save tot in hot car STORY: http://t.co/QiE45FUDyVpic.twitter.com/ZOViHIzYsm"

— Rudy Rodriguez, Jr. (@rrodrig305) September 22, 2014
At the beginning of September, Georgian Justin Ross Harris was charged with murder, two months after his toddler son Cooper was left in the sizzling summer sun in a hot car. Prosecutors believe the father intentionally left his child to die in the vehicle.
In July, an Iowa hospital CEO left her seven-month-old daughter in the minivan and rushed for meetings. The baby died. In May, a Colorado woman forgot her 13-month-old son was strapped in a baby seat while she went to work at a McDonald's.
The total number of children who died in hot cars due to sunstroke is over 600 since 1998, and the alarming data shows that 18 percent – almost one in five cases – happened because the adults intentionally left the kids to die.
However, incidents like this can happen not only to reckless and inattentive parents: the risks of such lapses in memory increase if parents are stressed or sleep-deprived. Psychologists have even given the condition a name. Forgotten Baby Syndrome refers in particular to cases in which parents leave their kids in hot cars.