Man arrested for posing with baby and BB gun on Facebook photo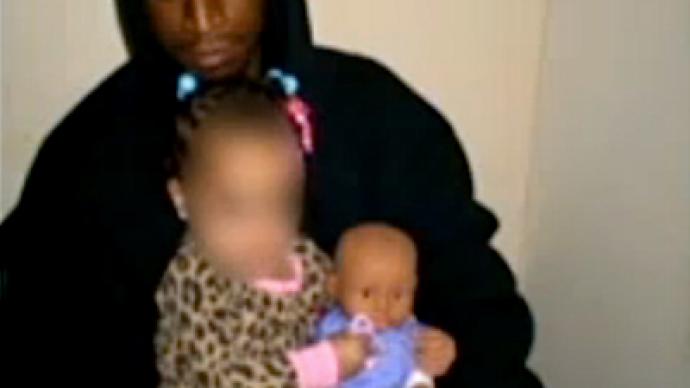 A 22-year-old Ohio father was arrested for posting a photo on Facebook of himself holding his baby daughter and a BB gun.
Dominic Gaines was charged with child endangerment for posing in a photo with his 1-year-old daughter, Paradise Gaines, while also holding what was mistaken for a deadly weapon. Police say the gun was positioned too close to the baby girl to be considered safe. The child's mother discovered the picture and the maternal grandmother called the police.Authorities in Colerain Township, Ohio, initially believed that Gaines was holding a handgun ."It's really been blown out of proportion," the young man's father, Wilson Dykes, told Fox 19, further explaining that the BB gun was pointed toward the ground.While in court on Monday, Gaines referred to the incident as a misunderstanding and explained that he was playing with the gun while visiting relatives, WLWT reported."What had happened was he had his nephews over, as well as his daughter, they were all playing. He was playing with a BB gun with his nephews. His brother walked in and wanted to take a picture of him with his daughter, he incidentally happened to be holding the BB gun in the picture," said attorney Andy Schoenling.
The air guns shoot plastic projectiles called "BBs". Although being hit by a "BB" can hurt, the guns do not have the capability to kill anyone and are frequently given to children to use as toys. Certain models closely resemble a handgun in appearance, causing them to be easily mistaken for a deadly weapon.Gaines is currently being held on $2,000 bond in the Hamilton County Jail.Gaines is not the first US resident to be arrested for possessing an airsoft or BB gun that was mistaken for a handgun. Many of the recently manufactured toy guns look strikingly similar to their deadly counterparts and "scares the hell out of" police, said Sergeant John Urquhart, who works at a sheriff's office in Washington State."None of us want to be put in a position where we're going to shoot anybody, much less a young person because they have a fake gun," he told MyNorthwest.com.But false alarms occur frequently. A group of young men were surrounded by police in Washington state after they bought real-looking airsoft guns at a sporting goods store in 2011. Arriving from all directions, more than half a dozen police officers held them at the ends of assault rifles and handguns and arrested them."Out of nowhere they swarmed," Jackson said. "They pulled us all out one by one, put us on our knees, handcuffed us, and threw us in the back of the car."Bank robberies have occasionally also been conducted using BB guns and in some cases, police shot the suspect that they thought was armed with a deadly weapon.In many cases, Americans who are unable to distinguish a BB gun from a real gun call the police on the toy's owner – like in the case of Gaines, who remains in prison until his testimony is verified.
You can share this story on social media: