NYC stages world's 'biggest ever' climate change march (PHOTOS, VIDEO)
Not even a gloomy sky could dampen the spirits of climate activists Sunday, as up to 310,000 marched through New York City pushing for international action against global warming. Thousands of rallies across the world called on governments for change.
Described by organizers as the largest climate-related event in the history of the planet, the People's Climate March had people lined up across nearly 30 New York City blocks before the event began. According to organizers, the crowd's numbers easily blew past original projections, which estimated that some 100,000 would attend.
OFFICIAL COUNT: 310,000 people marching for climate justice at #PeoplesClimate March! pic.twitter.com/YGLavoKQBV

— People's Climate (@Peoples_Climate) September 21, 2014
Among the participants were high-profile names such as UN Secretary-General Ban Ki-moon, former Vice President and Nobel Peace Prize winner Al Gore, and actor Leonardo DiCaprio – a newly appointed UN representative. Local presence was also strong, with New York City Mayor Bill de Blasio joining the procession, as well as City Council.

"There is no Plan B because we do not have planet B," Ban said in a statement on Sunday. "We have to work and galvanize our action. Thank you for your action and your power to change."
#UNSG: While marching w people felt I'd become SecretaryGeneral of the people #PeoplesClimatehttp://t.co/5tn1FAwZ4Spic.twitter.com/lHqEpMfGvy

— UN Spokesperson (@UN_Spokesperson) September 21, 2014
Leonardo DiCaprio marches with indigenous groups @Peoples_Climate in NYC. pic.twitter.com/aOoKZEZ0hM

— M. Scott Mahaskey (@smahaskey) September 21, 2014
People journeyed from across the world to attend the march, including those from countries that are considered to be on the front-lines of climate change. One Filipino protester described seeing an entire beach disappear thanks to rising waters, and groups from the Dominican Republic, Africa, and multiple South Asian countries were also present.

Some Americans, meanwhile, traveled from all over the country to take part in the largest of the roughly 2,700 events coordinated throughout the globe. Among the demonstrations staged across 150 countries, some of the most notable were in London, where over 40,000 people turned up, and Melbourne, where the biggest rally in Australia attracted about 20,000 activists.

As the sea of demonstrators weaved through Manhattan, chants of "We want clean air" and "Power to the people" roared among the crowd.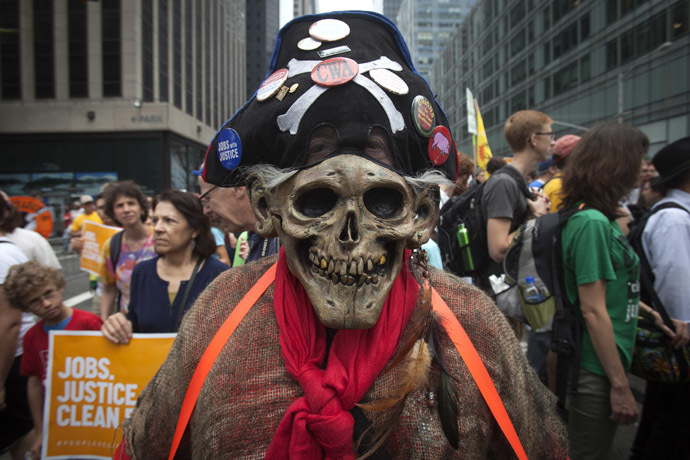 With 120 world leaders expected to come to a climate summit this week at the United Nations HQ, demonstrators rallied to build momentum for change. The summit is expected to tackle prickly issues that have held back negotiations in the past, such as the division of responsibilities between developed and developing economies and details regarding emission cuts for each country.

"We want to be more resilient in the face of climate change. We want to build a movement," Drew Curtis of the grassroots Our Power Campaign said to RT.

"They can't do it alone," he said of world leaders, adding that outside of international summits, governments need to work with local communities to ensure policies are implemented effectively.
While the focus was on grand-scale environmental issues like carbon emissions, many people came out to raise awareness for more specific matters: the proposed Keystone XL oil pipeline through the US and Canada, the Fukushima nuclear disaster, and Russian oil exploration in the Arctic.
More math. #banfrackingnow#PeoplesClimateMarchpic.twitter.com/vQQkgOVsOo

— Josh Fox (@gaslandmovie) September 21, 2014
"We like our keystone light not XL" #peoplesclimatepic.twitter.com/0g3bnPm1ZM

— Cole Stangler (@ColeStangler) September 21, 2014
The event also attracted a wide array of political, social justice, and religious organizations. Although Vocal New York typically works to promote the plight of the poor, the incarcerated, and those affected by HIV/AIDS, board member Bobby Tolbert said his group is "united to fight against climate change."
"We hope they can have a change in mindset," he told RT, referring to international heads of state. "We hope they start investing in people rather than corporations, who use their power and influence to gain profit [at the expense of] people."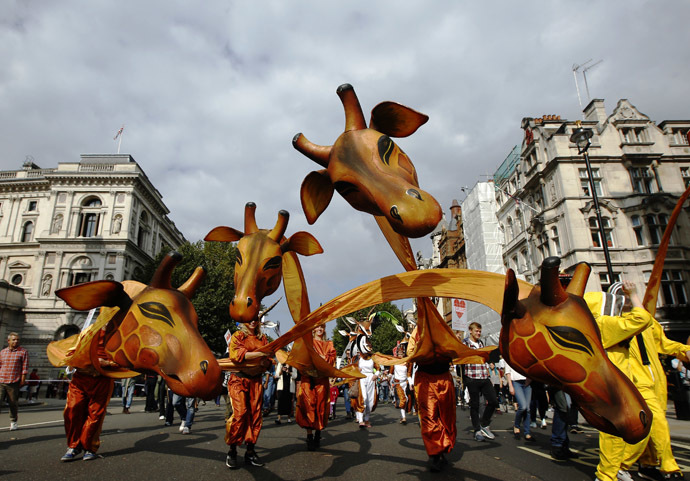 Meanwhile, multiple religious groups united under the Interfaith Contingent, highlighting the link between God's creation and humanity's responsibility to ensure it remains cared for. Prior to the march, the National Catholic Reporter wrote that "climate change is [the] church's No. 1 pro-life issue."

"We have pledged to act in harmony with all creation. Climate change is primarily hurting the poor" and the planet's endangered species, said Sister Mary Pendergast, the ecology director of the Sisters of Mercy's Northeast Community.

But regardless of whatever forward movement the rally can build for Tuesday's climate summit, real progress on an international treaty is not expected to take place until next year, at the 2015 Climate Change Conference in Paris, France.

Still, Pendergast said she hopes such an achievement is possible, because so far, "All we've done is talk."
No bailouts for the Earth #PeoplesClimate#climatemarchpic.twitter.com/25OFj8MJWT

— Jordan Mammo (@jordanmammo) September 21, 2014
The New York march was organized by 350.org, a pressure group headed by Bill McKibben, one of the forefathers of climate change activism who authored the iconic 1989 tome, "End of Nature."
The day the climate movement came of age. It took 25 years, but better late than never

— Bill McKibben (@billmckibben) September 21, 2014
From London to New York, @WWF's taking to the streets this weekend to call for #climate action! #PeoplesClimatepic.twitter.com/pKLHdFr7vQ

— WWF Climate & Energy (@climateWWF) September 21, 2014
Melbourne, Australia wants Climate Action NOW! #PeoplesClimate#climatechange#GreenRevolutionpic.twitter.com/pTufltcfBq

— Adam Smith ♻️ (@No_KXL) September 21, 2014
The New York City Council is out marching for action on climate change #PeoplesClimate#climatemarchpic.twitter.com/Kkc3wlar78

— Jordan Mammo (@jordanmammo) September 21, 2014
Marching for the Dominican Republic #PeoplesClimate#climatemarchpic.twitter.com/QA567Q94m0

— Jordan Mammo (@jordanmammo) September 21, 2014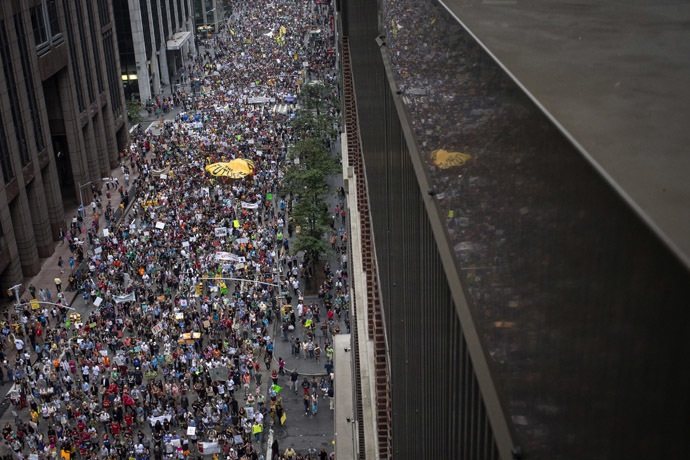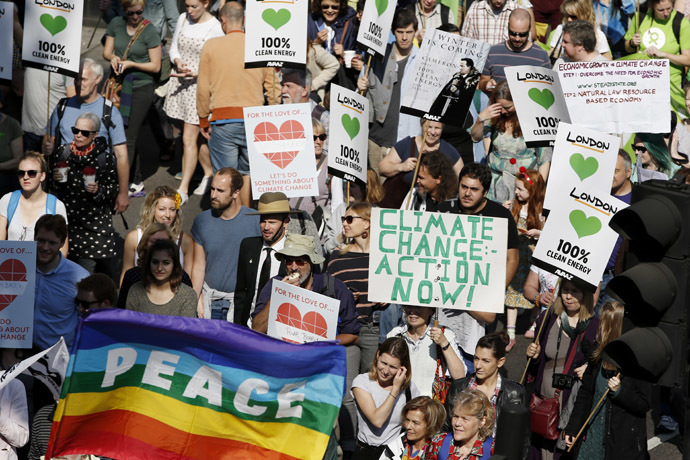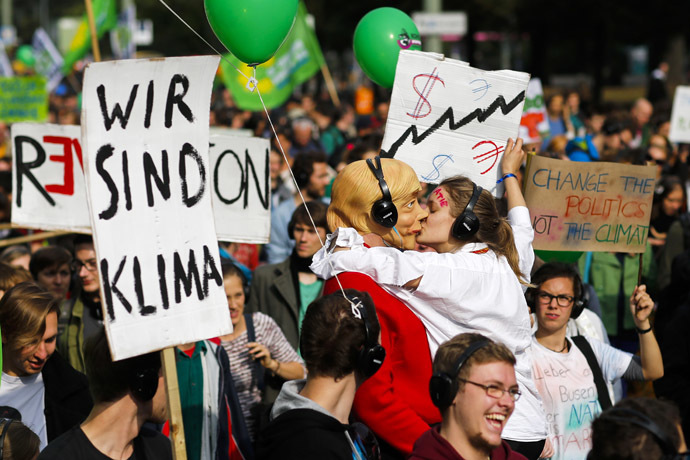 You can share this story on social media: