'Stepping into the solar system': NASA prepares Orion human spacecraft for liftoff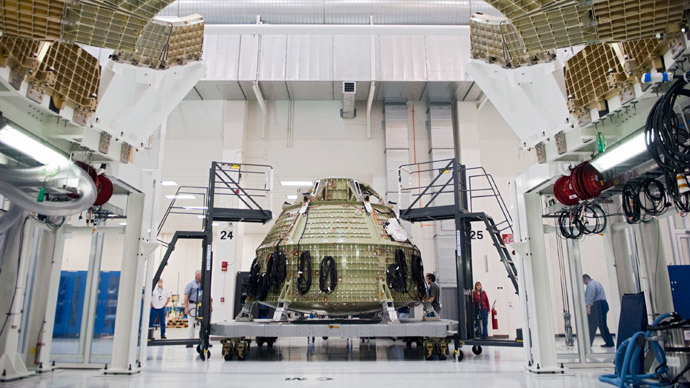 NASA's most-advanced spacecraft designed to take humans farther into space than ever before has made it to its fueling depot as its first deep-sea test flight nears. After fueling, the multipurpose Orion capsule will be one step closer to its liftoff.
"This is our step to the future, the exploration of establishing a presence in the solar system," said Robert Cabana, a former space shuttle commander and now Kennedy Space Center director, as quoted by the Associated Press. Cabana was speaking as the center's staff gathered to see Orion docking at a 36-wheel platform - its fueling depot.
.@NASA_Orion has ARRIVED!! In the PHSF, Orion will be fueled with propellants in preps for its flight test in Dec. pic.twitter.com/qljUIoPSDm

— NASA Kennedy / KSC (@NASAKennedy) September 11, 2014
On Thursday morning, the spacecraft was relocated from Kennedy's Neil Armstrong Operations and Checkout Building (O&C) to the Payload Hazardous Servicing Facility.
#Orion enters the Payload Hazardous Servicing Facility @NASAKennedypic.twitter.com/JQHO7FI4pw

— Orion Spacecraft (@NASA_Orion) September 11, 2014
Over the next month, the Lockheed Martin-built vehicle will be loaded with ammonia and other hazardous propellants, NASA said in a statement.
Roll Out! @NASA_Orion making its journey to the Payload Hazardous Servicing Facility for launch in Dec @NASAKennedypic.twitter.com/qGS5Ss8Fr7

— NASA KETI (@NASA_KETI) September 11, 2014
Orion's first deep-sea test flight is scheduled for December 4, when it will be flown to an altitude of about 3,600 miles (5,800 km) above Earth. This is 14 times farther away than the International Space Station, which flies about 260 miles (418 km) above Earth, and the furthest any spacecraft has ever reached. The test flight is currently scheduled to be carried out without astronauts.
The capsule will be launched aboard a United Launch Alliance Delta 4 Heavy from nearby Cape Canaveral Air Force Station.
Once it reaches its final destination, Orion will take two big laps around Earth before speeding back toward the planet. It will slam into the atmosphere at 20,000 mph (32,000 kph). At that speed, Orion's thermal protection system should heat up to about 4,000 degrees Fahrenheit (2,200 degrees Celsius). This test should prove that the shield can protect astronauts returning from the moon and other deep-space destinations.
The entire mission, as it is planned, will take 4.5 hours.
This #Orion will spend 4 hours in space but it will only take 20 min. to be transported to next bldg. pic.twitter.com/pVC7Y6SPm8

— Orion Spacecraft (@NASA_Orion) September 11, 2014
The second Orion flight is not expected until 2018, when another unmanned capsule is set to ascend atop NASA's new megarocket, still under development, called the Space Launch System (SLS).
If both tests are successful, NASA plans to put astronauts aboard Orion in 2021 for deep-space exploration. Each capsule can accommodate up to four people.
The primary plan is to use Orion for getting humans to asteroids and Mars.
This would mark NASA's return to the human space launch business, which the space agency left in 2011 when the shuttle program ended.