Reddit profited off hacked celeb nudes, while charities won't accept related money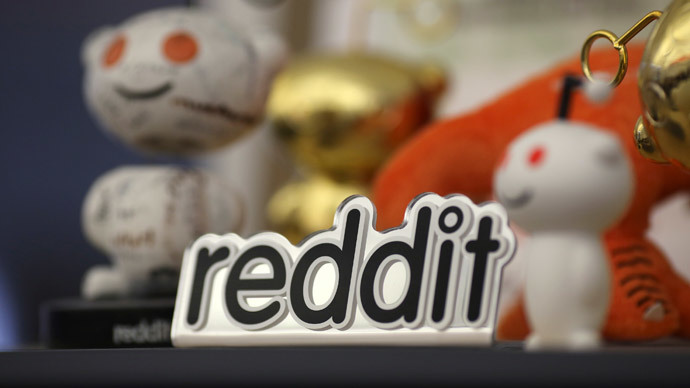 Reddit made enough money off subscriptions to run its servers for a month in the six days the popular web forum linked to the leaked pictures of nude celebrities. But several charities are refusing money Redditors raised "in honor of" the exposed stars.
In under a week, the user-generated site earned enough money from the nude pics scandal to power its servers for roughly a month, John Menese, the 33-year-old creator of a Reddit sub-forum ‒ called a subreddit ‒ expressly launched to share the photos, told Wired. He based that statistic on how many times members of the subreddit paid for so-called Reddit "gold," the $3.99-per-month premium accounts that users often gift to each other to bestow a few extra features and prestige.
Menese estimated that the r/TheFappening subreddit ‒ a reference to Reddit's lingo for masturbation ‒ earned 27 days' worth of server time before the forum was banned.
You know what's better then leaked nudes? Earning the trust & respect of another human to the point that they share their body with you.

— Susan Burke (@ThatSusanBurke) August 31, 2014
Menese told Wired he believed that it took Reddit six days before it finally banned the forum because the site wanted to profit off the trove of sexually-charged photos of celebrities, including Oscar-winning actress Jennifer Lawrence and star Kate Hudson, among others.
"If Reddit had wanted to, they could have banned us on Sunday when our traffic broke their servers," the salesman at a Las Vegas call center said. "Instead, they chose to milk a week of publicity and a month of server time in Reddit gold before they stepped in."
After violating privacy of 100s of women, Reddit is donating to a Prostate Cancer charity. I'm sure women everywhere will be very grateful.

— Hannah Jewell (@hcjewell) September 2, 2014
"It's sad that Reddit already made their money and then made a show of banning the site," Menese added.
The leak is believed to have been brought on by hackers who took advantage of a weak security mechanism that failed to protect images uploaded to Apple's iCloud storage system. Federal authorities in the United States have since said that they are investigating the breach.
In a twisted show of support for the famous victims, one of the more than 146,000 subscribers to r/TheFappening wrote, "Let's make this a worthwhile endeavour! Jennifer Lawrence has donated to help cure prostate cancer, the least we can do is follow suit for helping us maintain our long-term health by donating. Be the hero TheFappening deserves!"
Charity turns down Reddit's pity money for looking at stolen celebrity photos http://t.co/GNHb8LpGlO via @verge

— GroupCaptainMandrake (@grpcptn) September 3, 2014
The group raised more than $5,000 for the Prostate Cancer Foundation before the charity realized the impetus for the donations. It promptly returned the funds.
"A post appeared on Reddit late Monday afternoon, September 1, 2014. A Reddit user directed other Reddit users to make a donation to the Prostate Cancer Foundation without the Foundation's knowledge. We would never condone raising funds for cancer research in this manner," the foundation said in a statement. "Out of respect for everyone involved and in keeping with our own standards, we are returning all donations that resulted from this post."
The "charitable" move may have been "an attempt to assuage the guilt of downloading, ranking, reposting, and jerking off to" the stolen photos, Jessica Roy sneered in the Daily Intelligencer. Lawrence and the other women targeted may be victims of sex crimes, possibly including child pornography, she noted.
why are so many people leaving #Reddit? sexism and #rapeculture. This post is a good intro.... "Fu*k You Reddit" http://t.co/mcTgqKYGiu

— Manny Jalonschi (@MJalonschi) September 5, 2014
After being snubbed by the foundation, Redditors began donating to another charity, Water.org, which also returned the donations related to the forum.
Unlike the two charities, Reddit has no plans to return the money or change its policies to prevent potentially illegal material from being posted in the future. In a blog post titled 'Every Man Is Responsible For His Own Soul,' Reddit CEO Yishan issued a standard non-apology for the photo dissemination: "We understand the harm that misusing our site does to the victims of this theft, and we deeply sympathize," he wrote. "Having said that, we are unlikely to make changes to our existing site content policies in response to this specific event."
It remains to be seen whether the scandal will affect the long-term profits of the site for its owners, Advance Media. Reddit is currently trying to raise more than $50 million in venture capital, the New York Times reported.
TC Sottek from the Verge thinks the scandal hurts the company's image. "Reddit is a kleptocracy that speaks to lofty virtues while profiting from vice," he wrote, comparing TheFappening to "sexual assault, condoned by a state that earns revenue from it."
Menese is unrepentant, pointing to other forums on the site composed of questionable content. "There are lots of other subreddits that have questionable content," he said. "But they're still up right now because people whose photos are on them don't have lawyers."
You can share this story on social media: