American doctor infected with Ebola lands in US for treatment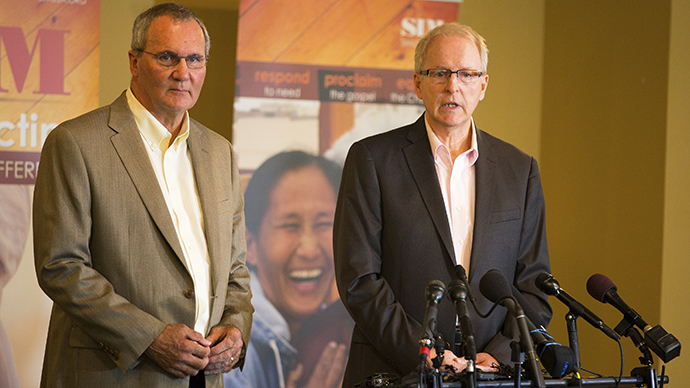 The latest American to be infected with Ebola while working as a missionary doctor in Africa has been flown in to the Nebraska Medical Center in order to receive treatment.
Missionary doctor Rick Sacra, 51, arrived in Omaha, Nebraska on Friday, according to local media reports. Upon his arrival, he was transported to the hospital's Biocontainment Patient Care Unit for treatment.
Although Sacra was not actually working with Ebola patients during his time in Liberia – he was serving pregnant women at the ELWA Hospital instead – he was recently confirmed to have the virus and his condition is serious enough to warrant a return to the United States.
READ MORE: Ebola-infected patient in Liberia escapes quarantine, enters crowded market
"Rick was receiving excellent care from our SIM/ELWA staff in Liberia at our Ebola 2 Care Center," international Christian aid organization SIM's USA President Bruce Johnson said in a statement."They all love and admire him deeply. However, The Nebraska Medical Center provides advanced monitoring equipment and wider availability of treatment options."
In a press conference with reporters, Sacra's wife, Debbie, described her husband as "clearly sick" but in "very good spirits."
Two other American aid workers have been flown out of Africa and treated for Ebola in the United States. In August, both Nancy Writebol – who worked for the same organization as Sacra – and Kent Brantley were treated with an experimental drug called ZMapp after arriving in the US. Both ultimately recovered and were discharged.
The news comes as the Ebola outbreak in West Africa continues to worsen. On Wednesday, the World Health Organization said the death toll has now surpassed 1,900 people – a spike of almost 400 people since last week – making it the most deadly epidemic since the virus was first detected in 1976.
Additionally, a total of 3,500 cases have been confirmed in Guinea, Sierra Leone, and Liberia as of this week.
READ MORE: WHO: International organizations 'underestimated' Ebola
Although only a tiny portion of Americans have been affected by the virus, a new report in PLOS Currents: Outbreaks stated that there's an 18 percent chance a case will hit the continental US by the end of September. There have been some patients who've been tested, but so far the results have turned up negative.
Meanwhile, the WHO told NBC News that it will cost at least $600 million to slow down the epidemic. It also predicted that at least 20,000 people will get infected.
On Wednesday, WHO director general Margaret Chan said the virus has been "underestimated" by international organizations and is getting worse.
"All international organizations underestimated the disease," she said. "The outbreak will get worse before it gets better. And it requires a well-coordinated, big surge and huge scale-up of outbreak response urgently."
You can share this story on social media: