Ebola-infected patient in Liberia escapes quarantine, enters crowded market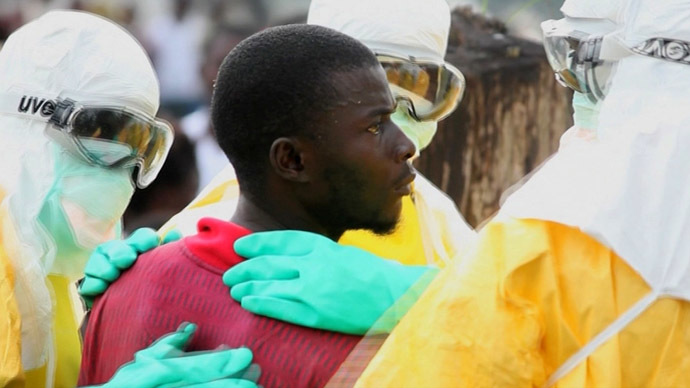 A video has emerged that an Ebola-infected patient has escaped a quarantine zone in Liberian hospital and went to a local crowded market in search of food. He was then pursued by medical staff and returned to hospital.
WHO: International organizations 'underestimated' Ebola
The man left Elwa hospital facility in Liberia's capital, Monrovia, which is full of Ebola patients. Wearing a tag which indicated that he had tested positive with Ebola, he arrived at a local crowded market in the Paynesville neighborhood, the busiest part of the city.
The crowd is fleeing in fear and shouting angrily at a man wearing red clothes, as shown in the video released on YouTube. When medical staff arrived, the patient began to run and then took a stick and tried to keep them at bay. However, the doctors managed to take him to the ambulance.
Fear & loathing in Liberia as Ebola 'plague villages' pop up in countryside
A local resident told the media that it is the fifth case in which a patient has escaped the quarantine zone.
"We told the Liberian government from the beginning that we do not want an Ebola camp here. Today makes it the fifth Ebola patient coming outside vomiting," a man who watched the scene, told Reuters.
On August 18, at least 17 suspected Ebola carriers fled the same hospital in Monrovia after a quarantine center was attacked by a rock-throwing crowd. They were then successfully returned to the facility.
YOU MAY FIND THIS VIDEO DISTURBING
Liberia is one of the most affected states by Ebola virus. From August 26 it confirmed at least 1,378 cases of the deadly virus. Four hundred and twenty-two people in the country have died in the outbreak.
So far, the Ebola virus, which is transmitted through contact with infected bodily fluids, has killed more than 1,500 people in Liberia, Guinea, Sierra Leone and Nigeria since the beginning of 2014.
Liberia's nurses go on strike amid Ebola outbreak
On Tuesday, Doctors Without Borders (Médecins Sans Frontières) said that the response to the deadly virus is "lethally inadequate", and warned the world is "losing the battle" with Ebola.
"Six months into the worst Ebola epidemic in history, the world is losing the battle to contain it. Leaders are failing to come to grips with this transnational threat," said Dr. Joanne Liu, MSF international president.
She added that in West Africa cases "continue to surge."
"Riots are breaking out. Isolation centers are overwhelmed. Health workers on the front lines are becoming infected and are dying in shocking numbers. Others have fled in fear, leaving people without care for even the most common illnesses. Entire health systems have crumbled."
US officials: Ebola outbreak to worsen
According to Liu, MSF has been ringing alarm bells for months, but the response has been "too little, too late."
"The outbreak began six months ago, but was only declared a 'Public Health Emergency of International Concern' on August 8," she added.
She added that instead of building new Ebola medical centers in Liberia, they "are forced to build crematoria."
"While funding announcements, roadmaps, and finding vaccines and treatments are welcome, they will not stop the epidemic today."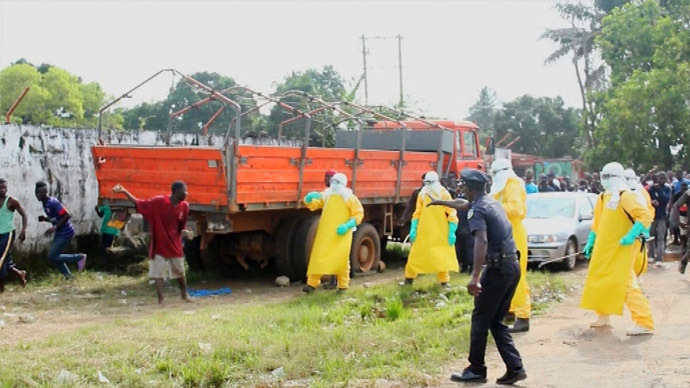 Earlier it was announced that Ebola had spread to the West African state of Senegal – the region's fifth country to confirm a case of Ebola. Meanwhile, the World Health Organization (WHO) warned that five more states are at risk for spread of the outbreak.
"The following countries share land borders or major transportation connections with the affected countries and are therefore at risk for spread of the Ebola outbreak: Benin, Burkina Faso, Côte d'Ivoire, Guinea-Bissau, Mali and Senegal," the agency said, adding it will aid the new states with "surveillance, preparedness and response plan."
Meanwhile, the US is pushing ahead with Ebola vaccine trials on humans as 20 healthy volunteers will enter a 48-week trial for a US-developed vaccine against the deadly Ebola virus this week. The trial has been moved forward due to the current outbreak, but the first results are unlikely before the year's end.
You can share this story on social media: