Fear & loathing in Liberia as Ebola 'plague villages' pop up in countryside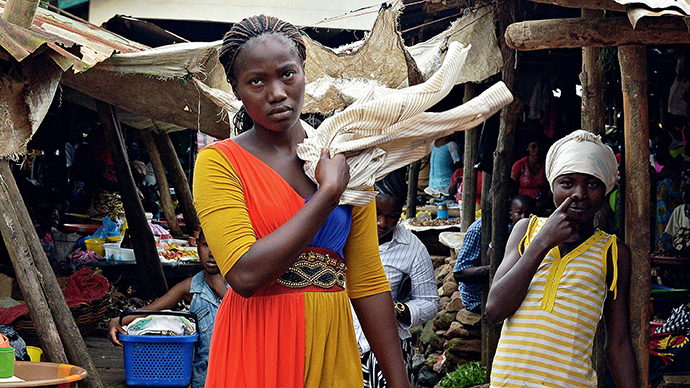 In scenes reminiscent of medieval Europe, "plague villages" have appeared across Liberia as the West African nation faces the spreading Ebola epidemic. The World Health Organization is urging people leaving the disease-hit countries to get screened.
Liberia's remote villages, quarantined off from the outside world, appear to be the only hope for the crude containment of the deadly fever. However, very little food and few medical supplies are getting in, Reuters reports. This means the sick are left with a stark choice: either get out and risk inflicting suffering on others, or stay put and risk death there.
And that suffering has consequences in more ways than one: in Lofa County, one Joseph Gbembo, who survived the disease, is now struggling to raise 10 children under the ages of five, while also taking care of five widows, after nine members of his family succumbed to the illness.
Even the healthy in the communities are being torn apart by fear. Gbembo's neighbors will no longer speak with him, blaming him for bringing Ebola into his village, Boya. Worse still, he says, "I am lonely… nobody will talk to me and people run away from me." On top of this, he receives no food, healthcare or benefits for the children.
For the NGOs currently in Liberia, it's only a matter of time until the infection spreads, one way or another. Tarnue Karbbar, a worker for charity Plan International based in Lofa County, told Reuters that "if sufficient medication, food and water are not in place, the community will force their way out to fetch food and this could lead to further spread of the virus."
The Ebola epidemic is now widely considered to be the worst crisis in Liberia since the bloody civil war that ended there in 2003. Medical roadblocks and quarantine facilities have been imposed by President Ellen Johnson Sirleaf. The roadblocks themselves are similar to containment methods used in medieval Europe.
The military has also been brought in to keep the infected indoors, but that is of little use when most of the infection isn't contained: hospitals are either full or people simply don't go there.
And not everywhere is the suffering inflicted by Ebola taken seriously, despite the horrendous toll on the population. An attack on one quarantine center in the capital Monrovia on Saturday evening proved to be a massive setback for containment.
The situation was brought on by a distrust of the government, the belief that the infection was a big hoax, and also by fear that the quarantine center was accepting too many patients from other regions, making the facilities into "death traps."
As angry protesters stormed the center, some freed loved ones, while others looted blood-stained, contagious mattresses, as well as medical equipment, all but ensuring that the infection spreads freely.
A top police official speaking anonymously told the BBC that it was "one of the stupidest things" he has ever seen in his life, fearing that the slum area of West Point could be next in line for infection – that means 50,000 more potential victims in an already catastrophically underfunded and underprepared Liberia.
There are now conflicting reports as to the whereabouts of 17 patients who vanished after Saturday's looting. The BBC learned that the 17 were not among those who were taken by their relatives, of which there were 10.
Others are currently being relocated to other centers.
The WHO has declared the infection an international health emergency – a status it has given out only three times in the last 66 years. On Monday the organization also called on the countries affected by Ebola to check people departing at international airports, seaports and major border crossings and stop any people with signs of the virus from traveling.
"Any person with an illness consistent with EVD (Ebola Virus Disease) should not be allowed to travel unless the travel is part of an appropriate medical evacuation," the UN health agency said in a statement.
It will take about six months to bring the Ebola epidemic in West Africa under control, and this will require greater leadership from the World Health Organization, the head of Medecins Sans Frontieres (MSF) said Friday.
"If we don't stabilize Liberia, we will never stabilize the region," Reuters quoted Joanne Liu as saying said in Geneva after a 10-day trip to West Africa. "Over the next six months we should get the upper hand on the epidemic, this is my gut feeling," she said. However, more experts are needed on the ground, she added.
MSF believes that containment must involve the rollout of a massive program aimed at prevention and training.
"Quarantines expose healthy people to risk – which is why the effectiveness of states is so important in supporting preventive measures that will minimize this," says Robert Dingwall of Nottingham Trent University, who specializes in health policy responses to infectious diseases.
But casualties are mounting and the country simply can't keep up: just one town has been deserted by 2,000 residents, who either fled or died, according to a UNICEF official.
Reporting systems are just as important as food and medical aid. Both are very scarce in Liberia, where there are only 50 doctors for a population of over 4 million.
What's worse in Liberia's particular case is that the areas most affected by the infection are the food-producing ones, while the healthy ones cannot feed themselves. According to another UNICEF official, signs of this problem are beginning to show.
The death toll in the country has reached at least 410, and many more undocumented deaths are feared. As of Friday, the death toll in West African countries Guinea, Liberia, Nigeria and Sierra Leone stood at 1,145 people, while the overall number of infection cases in the outbreak has climbed past 2,100.
You can share this story on social media: