Family says Texas police shot at schizophrenic man 80 times, killing him (VIDEO)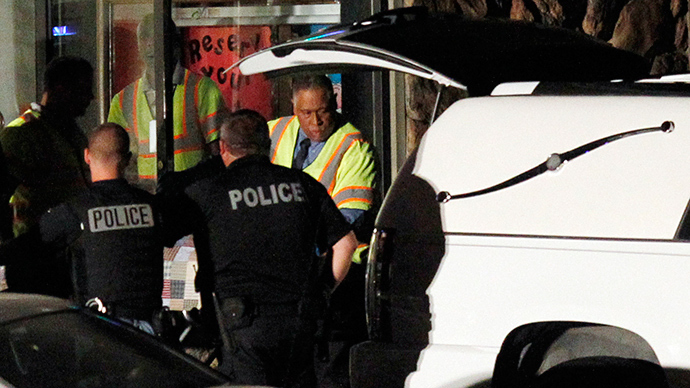 Police in Laredo, Texas opened fire on a schizophrenic man armed with a pellet gun this week, killing him after unleashing upwards of 80 shots, according to the victim's family.
Six officers from the Laredo Police Department have been reassigned to administrative duties while officials investigate the incident, which occurred early Saturday morning outside of a truck stop in the southern part of the Lone Star State.
According to authorities, police spent around five minutes attempting to negotiate with 30-year-old Jose Walter Garza before the man made an "offensive gesture," then allegedly aimed the would-be weapon — a pellet gun made to resemble a semiautomatic handgun, according to the Laredo Morning Times — at the cops who then opened fire.
"He put his finger in the trigger guard and pointed it at the officers," Joe E. Baeza, an investigator and police spokesperson, told the paper.
Law enforcement has since opened a probe in order to get to the bottom of the incident, but Andrea Martinez, Garza's cousin, told the New York Daily News that police shot no fewer than 80 times. Surveillance footage from a camera at the truck stop has since been published online, but the angle it was filmed from shows only the fatal shots, and not how Garza acted beforehand.
Although the investigation has only just begun, Laredo Police Chief Ray Garner told the Houston Chronicle that cops acted within their rights when they shot Garza.
"These officers, although justified, are going to have to carry that around with them for the rest of their lives," Laredo Police Chief Ray Garner told the Houston Chronicle. "I've been in contact with all six of the officers from that evening through today. They seem to be holding up. No officer goes to work thinking they're going to kill somebody."
"We are looking at all possible aspects, hoping to speak to all possible people who are eyewitnesses or may have had a run in with this individual," Baeza, the investigator, told Daily News. "There's a lot of ground to cover."
Garza takes prescription drugs for schizophrenia, his family told the Daily News, and may have been acting disruptive if he hadn't taken his medication.
But "he wouldn't get aggressive, he wouldn't hurt anyone," Martinez said to the Daily News. "He's a good kid. Why didn't they shoot him in the leg, or the arm or something? Not like that."
"Garza was well known to officers," Baeza added to the paper: "he'd been arrested by the local department 30 different times, on charges ranging from assault of a public servant and theft to assault causing bodily injury and criminal trespassing." It's not clear, however, if the officers were aware of the victim's mental condition.
According to the cousin, Garza, who died at the scene, "had no face" by the time his family had to identify the body.