California police caught on camera fatally shooting man (VIDEO)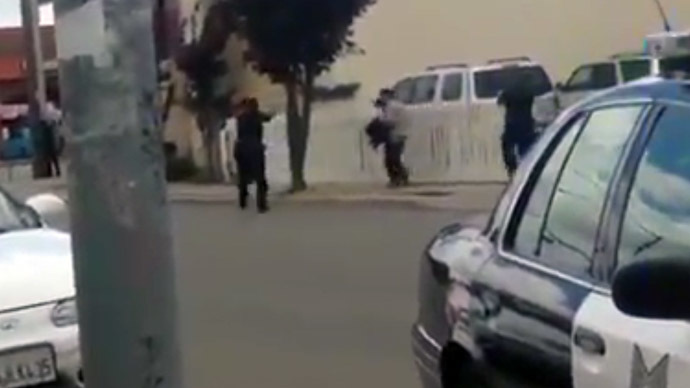 Residents of a small central California city are asking for a response from officials after the local police department has been attributed with fatally shooting two suspects in a span of just 11 days this month.
The Tuesday afternoon shooting death of man alleged to have attempted to burglarize a Salinas, CA home and then expose himself to the person inside marks the second time this month — and third time this year — that officers there have come under fire for what some are calling excessive force.
A local newspaper, the Monterey Herald, reported on Wednesday that Salinas residents were responding angrily to the previous day's incident in light of video footage published online showing local law enforcement officials firing the fatal shots at the man from point-blank range. The victim was not immediately identified by police.
According to the Herald, cops were alerted of an attempted break-in on Tuesday afternoon after a female caller told 911 that a man was not just trying to enter her home, but was trying to kill her dog and had exposed himself.
When police arrived and found the man on an adjacent street carrying a pair of gardening shears, the incident quickly escalated. The Herald quoted Salinas police Cmdr. Vince Maiorana as saying that the man was initially unresponsive when police tried to approach him about the alleged attempted break-in, then began to act strangely.
"Officers end up talking to this individual, trying to find out what he's doing and what the situation was based upon the original 911 call," Maiorana said. "This individual started to wave the gardening shears at the officers. We tried to deploy a Taser; the Taser did not work and as the officers tried to detain this individual, this individual pulled the gardening shears and actually attacked the officers with the gardening shears.
"In response, the officers, fearing for their personal safety, shot this individual and he is now deceased."
Cell phone video footage obtained by the paper shows that two officers with guns drawn and only a few feet away from the man fired four or five shots in broad daylight on Tuesday in a commercial part of Salinas, a town of roughly 154,000.
"There's some split-second decisions that have to be made by the officer," Maiorana told the Herald. "When the officer commanded this individual to drop the shears and to get down on the ground, this individual actually attacked the officer with the gardening shears."
According to the paper, though, witnesses — including the 19-year-old college student who captured the video footage of the shooting — disagree. The source of the Herald clip, Yoanna Prieto, said the man appeared to be backing away from police the entire time she was filming.
The Salinas Police Department is likely to have a harder time than ever justifying Tuesday's shooting, though, in the wake of an all-too similar incident that unfolded a week-and-a-half earlier.
On May 9, two Salinas cops fatally shot 26-year-old lettuce farmer Osman Hernandez outside of a grocery store only one mile away from the scene of this week's tragedy after he reportedly was chasing shoppers with a knife. Reports have since suggested Hernandez was drinking heavily at a nearby bar for two hours before the incident.
According to the man's family, at least one of the shots fired by law enforcement after the police arrived hit Hernandez in the head while he was lying on the ground.
"They killed Osman like a dog as he lay on the ground. Why are we to trust them investigating themselves? Why does it take so many bullets to the head to subdue a man who is already lying on the ground? Osman's life had value. We want the truth," a spokesperson for the man's family told reporters earlier this month.
KSBW added that the one eyewitness told the network that Hernandez was on the ground and stunned from the Taser when police fired no fewer than four shots. .
Christopher Dolan, a noted civil right attorney, told KSBW that the killing of his client "appears to be an excessive use of force resulting in a senseless killing."
"This is what is commonly referred to as a homicide," Dolan said. "The police state that they killed Mr. Hernandez for having a knife, not for actually threatening them with harm. Mr. Hernandez didn't even have a weapon in his hand when he was gunned down.The police, given the ultimate power by us, the citizens, owe each of us a duty to use only the minimum amount of force necessary. Officers are trained how to disarm a suspect and it's not by shooting them in the head over and over! This family deserves real answers so we will have private investigators speak with the witnesses, have Osman's body transferred to a private pathologist for analysis of the bullet trajectories, gunshot residue, and we will retain nationally renowned use of force experts to analyze the officers' conduct. It's in times like these when the police have killed someone that we need to be most vigilant as to protect ourselves from those entrusted to protect us."

Law enforcement up and down the West Coast have come under attack in recent years for a string of office-involved shootings and other acts of violence believed by some to demonstrate a trend towards using unnecessary force, but the comparably calm city of Salinas has endured three fatal police shootings alone so far in 2014.
"I understand there's a lot of emotions and a lot of legitimate concerns," Police Chief Kelly McMillin said during a City Council meeting on Tuesday with regards to that afternoon's shooting. "We're working hard to gather the facts, and when we have the facts, we will present them."
In late March, a man was shot to death by Salinas police officers after the cops responded to a report of a suspicious person who reportedly brandished a handgun when approached by law enforcement.
You can share this story on social media: