Cops arrest California man for filming them and then kill his dog (VIDEO)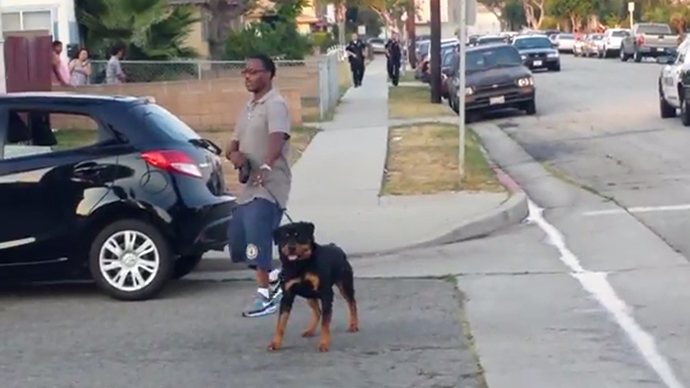 California police on Sunday arrested a man for playing music and videotaping them, and then fatally shot his pet dog after the animal jumped from an open car window.
Police arrested Leon Rosby, 52, near the scene of a SWAT barricade in Hawthorne, California. Officers were responding to an armed robbery, and claimed Rosby was disturbing the crime scene by playing loud music and videotaping the showdown with his cell phone.
"They had asked me why am I there?" Rosby later told NBC4. "And I said I was filming them so that no one's civil rights were being violated."
Cell phone video from a witness shows Rosby walking his dog while watching the police response to the robbery. The Usher song "Tell Me Again" was playing on repeat in his parked rental car, which had the windows rolled down.
Police claim that Rosby ignored their first request to turn down the music. Hawthorne police Lt. Scott Swain told the Daily Breeze that it interfered with their response to the robbery. A neighbor claims that Rosby cursed at police in response – a statement that the 52-year-old denies.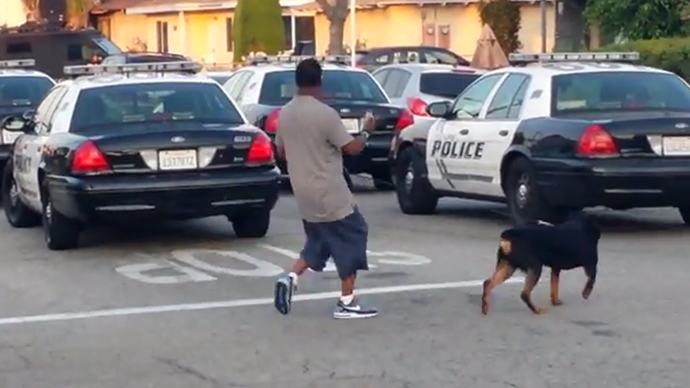 "It's distracting the officers," Swain said. "It's interfering with what they are able to hear. It's not just a party call. It's an armed robbery call. The officers need to hear what's going on with the people being called out of the residence. That music in his car is bleeding over and it's distracting them."
Rosby admitted that he should have complied, but believes the police response was unnecessarily brutal. After officers arrested the suspected robber, they motioned to Rosby and told him to put the dog in his car. He complied, leaving his Rottweiler in the backseat with the windows open.
Rosby then walked toward the officers, turned and put his hands behind his back, waiting to be arrested. As the man was being handcuffed, the dog started barking loudly and jumped out of the window. While barking, the dog approached the police, and video footage shows the 130-pound animal lunging at one officer.
"I said, 'No, Max!" Rosby told the Daily Breeze, describing his reaction to the barking dog. One police officer took out his gun and fired four shots at the dog, fatally wounding the animal. The dog writhed in pain, kicking its back legs and convulsing until it died on the street. Rosby's knees buckled as he cried out for his dog. He later told NBC4 that his animal was not just shot, but "executed".
"There was no way Max should have died like that," Rosby said. "Max was only protecting his master. He was trying to stop them from beating on me."
The owner says he was "crying and hollering, 'My dog! My dog! Max! Max!"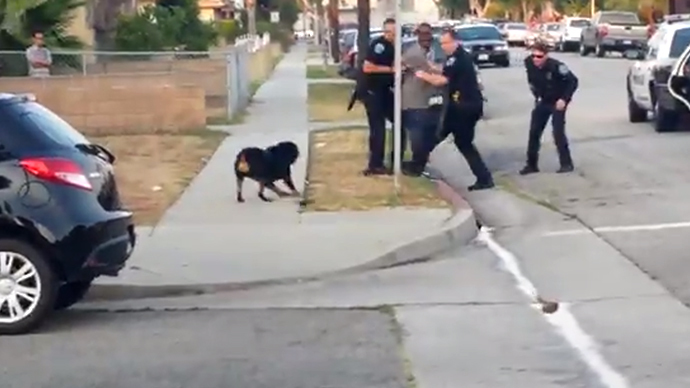 Neighbors who were at the scene cried out at the sight of the dying dog, and witness Samantha Othieno told ABC7 that she is deeply disturbed by what she saw.
"I started screaming," she said. "Now I'm traumatized. I never saw someone get shot or get killed or see anything get killed like that."
After the dog was shot to death, Rosby was taken to the police station and spent a night in jail on suspicion of obstruction. He was released Monday morning.  He claims police were out to get him because of previous encounters with officers. Rosby already filed six complaints against the Hawthorne Police Department for mistreatment and racial profiling.
"There's been a pattern of harassment against him and other African-Americans in Hawthorne," Rosby's attorney, Michael Gulden, told the Daily Breeze. "Last July, the police responded to his home and beat him unnecessarily, then threw him in jail for no reason. We sued for that. We'll amend that complaint to include the dog incident."
WARNING: EXTREMELY GRAPHIC FOOTAGE

You can share this story on social media: