Drone gets peek at Apple's new 'spaceship' campus (VIDEO)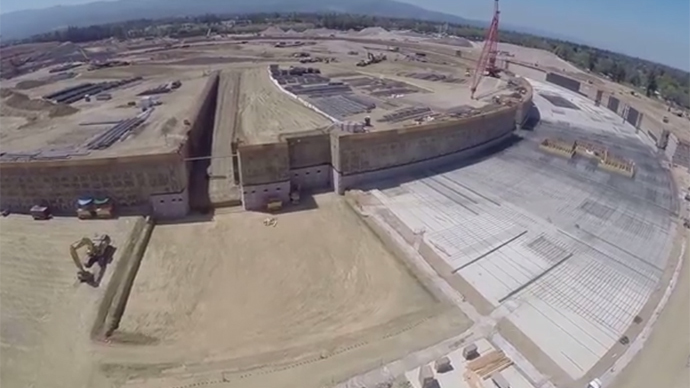 An Apple fan managed to get round the cordons preventing photos and flew a drone over Apple's new site in Cupertino, California, revealing the massive scale and scope of the innovative and ambitious project.
The operator used a DJI Phantom 2 drone and made sure the aircraft kept below 400 feet and within Californian law.
Previous glimpses of the complex that had been taken by Apple Toolbox just showed one part of the amazing new complex.
The building, which looks from above like a massive saucer or donut, will be home to some 13,000 employees. It is a mile in circumference and one-third of a mile wide.
Apple Campus 2, as it is officially called, will have 360-degree curved glass fronted walls, as well as a 1,000-seat auditorium and 300,000 square feet of research space, according to Brian Caulfield, a Forbes journalist, who has written about the new complex.
There will also be an underground passage from the main building to an underground auditorium, which will allow senior Apple employees to stroll onto the stage without having to deal with the press.
Power and heating will be supplied by solar panels and natural gas and the local energy grid will only be accessed if there is an emergency.
All the vehicles will be banished to underground car parks. Instead, the new campus is set to be surrounded by more than 7,000 trees, including vast orchards of cherry, apple, apricot and olive trees punctured with ground cycling and jogging trails.
The chief architect behind the project, Sir Normal Foster, told Architectural Record in a recent interview about some of the ideas behind what the San Francisco Weekly called a "massive glass donut."
"The reference point for Steve [Jobs] was always the large space on the Stanford campus – the main Quad – which Steve knew intimately. He would reminisce about the time when he was young, and California was still the fruit bowl of the United States. It was still orchards," he said.
The new campus was Apple's founder Steve Jobs' brainchild but after his death, designer Jony Ive and Foster took it over, and their ambitious plans were approved last year.
You can share this story on social media: