California plans to build quake early-warning system after Napa Valley shaken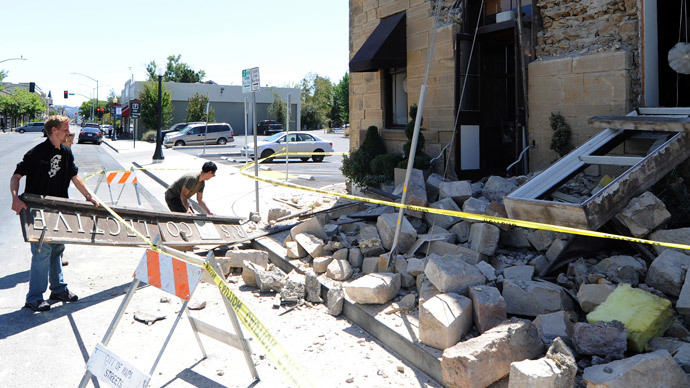 California is seeking funding for a statewide earthquake early-warning system to give residents some prior notice in the case of future temblors. The effort has new urgency following the magnitude-6.0 quake in Napa Valley on Sunday.
State Democratic Sen. Alex Padilla's law calling for such a warning system was approved by the Legislature last year. The California Office of Emergency Services (OES) is working to finalize a funding plan for the $80 million alert operation by early next year, he told KPCC.
Such a system could give up to 50 seconds advance warning, according to the Los Angeles Times, in order to give people time to seek proper shelter.
A research prototype of the early-warning system - ShakeAlert - at the University of California Berkeley gave alert about ten seconds in advance of Sunday's quake, the epicenter of which was around 6 miles south of the city of Napa.
OES has until early 2016 to come to a funding plan, which will include money from both public and private sources. Though under Padilla's law, none of the funding can come from the state's general fund.
But Padilla said he would call for state lawmakers to reconsider that provision if OES cannot attain needed funding.
"I am confident that we will be able to secure and identify funding from other sources," Padilla said. "But I think if necessary, we, in the future, should revisit the general fund."
Appropriations committees in both houses of the US Congress have set aside $5 million for such a system.
US Rep. Adam Schiff, a member of the House Appropriations Committee from the Los Angeles area, said the prototype's success bodes well for a statewide system.
"While this was not the 'Big One,' we need to be prepared to save lives and protect vital infrastructure - even a few seconds of warning will allow people to seek cover, automatically slow or stop trains, pause surgeries and more," he said in a statement.
Los Angeles recently received a $5 million dollar grant from FEMA for an alert system, according to Padilla, who represents part of nearby San Fernando Valley.
We'll "continue to look for federal opportunities, for private sector opportunities until the system is up and running," Padilla said.
Damage from the Napa Valley quake may total more than $1 billion by the time officials can calculate costs. Around 100 people were injured, mostly from stumbling on broken glass and other debris after the temblor hit before dawn, at 3:20 a.m. local time. The area will be susceptible to aftershocks in the coming weeks, geologists said.
The quake was the region's largest in 25 years. In 1989, a magnitude-6.9 Loma Prieta struck the San Francisco-Oakland area, killing more than 60 people, most from a freeway collapse.