California shaken by aftershocks while earthquake recovery ongoing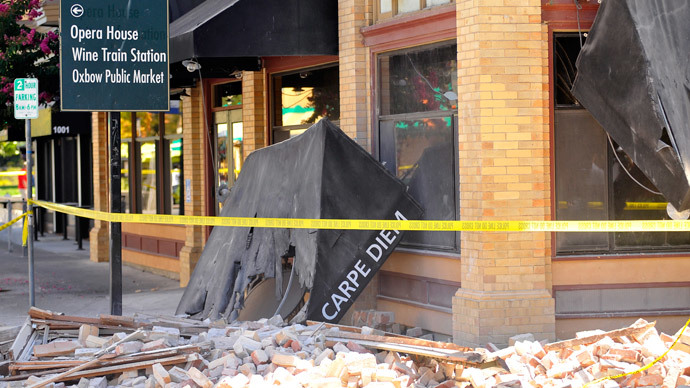 At least two people are still in critical or serious condition following an earthquake that struck California's Napa Valley. Power has been restored to much of the world-famous wine country, though work on damaged gas and water lines is ongoing.
More than a 100 others are still nursing lower-level injuries from the magnitude 6.0 temblor that struck six miles south of the city of Napa on Sunday. The timing of the earthquake, at around 3:20 a.m. local time, meant many had to stumble through broken glass and flying furniture in the darkness to escape danger or to reach loved ones.
Queen of the Valley Medical Center in Napa reported treating 172 people in the emergency room, though hospital officials could not say for certain how many of those suffered quake-related afflictions.
Twelve people were required to stay at the hospital with broken bones and other medical problems related to the quake, according to AP. Three people were seriously injured, Reuters reported. One adult remains in critical condition, according to AP, and a 13-year-old boy left with head injuries is listed as serious.
The boy was hit by debris from a collapsing fireplace, causing multiple fractures. He had to be airlifted to a children's hospital at the University of California Davis Medical Center for a neurological assessment.
The quake knocked out power for many, while rupturing gas and water lines.
Though around 70,000 customers lost power after the quake, Pacific Gas and Electric Co. spokeswoman Nicole Liebelt said early Monday that, as of 4 a.m., only about 150 were still without.
Pacific Gas and Electric also said hundreds of people have reported smelling gas since Sunday morning. The utility said 20 customers remained without gas as of early Monday, AP reported.
Officials are still estimating potential costs of the damage, but the US Geological Survey said the total could reach more than $1 billion. Around 100 homes and businesses region-wide have been deemed unsafe for occupation, including a historic Napa County courthouse. Yet authorities are only a third of the way through the process of red-tagging buildings, according to the San Francisco Chronicle.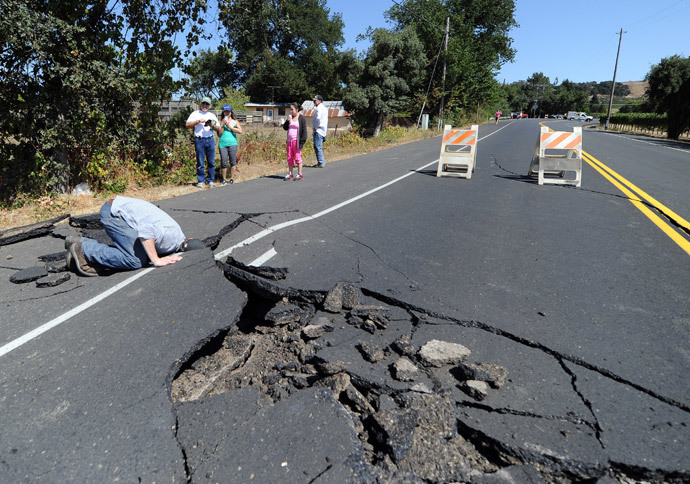 Since the Sunday quake, there have been more than 50 aftershocks in the region, and they should be expected to continue for several weeks, said State Geologist John Parrish. He added, though, that a major quake is unlikely to follow any time soon, the Los Angeles Times reported.
According to the US Geological Survey, the quake's epicenter hit at a depth of about 6.7 miles from the surface. It was reportedly felt more than 200 miles south of Napa and as far east as the Nevada border, lasting 10 to 20 seconds depending on distance from the epicenter.
The quake was the region's largest in 25 years. In 1989, a magnitude-6.9 Loma Prieta struck the San Francisco-Oakland area, killing more than 60 people, most from a freeway collapse.
California Gov. Jerry Brown has declared a state of emergency in Napa. He said conditions of "extreme peril" to people and property exist in Napa, Solano, and Sonoma counties.
Harvesting of Napa Valley's extensive vineyards was expected to begin Monday, but many will likely push that back a few days. That is the case for one vintner, Richard Ward of Saintsbury Winery, who lost during the quake 300 to 400 bottles in the winery's basement, according to AP.
"That's what happens when you're a mile from the epicenter," said Ward, whose winery's is south of Napa.