California earthquake losses could reach $1bn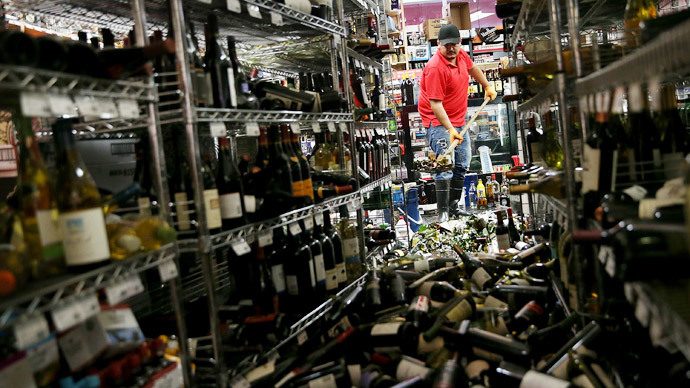 The estimated economic losses from the earthquake in Napa Valley in northern California could top $1 billion- the "red alert" level, according to the United States Geological Survey (USGS).
The 6.0 magnitude earthquake that struck the northern California coast Sunday morning left "extensive" and "widespread" damage, according to a report by the USGS. The results were automatically generated on Monday.
Under the "red alert" category, economic losses are less than one percent of US gross domestic product, but still require a national or international level response.
Governor Jerry Brown has declared a state of emergency and established a recovery fund for Napa. Local media reported that 15,000 homes are without power, and that city firefighters put out six major fires, and also tended to gas and water leaks. Six hundred households were without water.
Downtown Napa was hit hard by the disaster- as bricks and concrete collapsed and glass windows shattered. The seismic activity split streets open and caused damage to both private and public buildings, with 30 considered to be too dangerous to enter. Power outages have shut down restaurants and stores.
Losses, which are generated automatically, could reach $1 billion; only take into account structural damages. In comparison, the 1989 Loma Prieta earthquake caused $10 billion in damage.
Unlike the earthquake that hit 25 years ago, Sunday's tremor has so far claimed no lives. Over 120 people were treated in hospital mostly for mild cuts, bumps and bruises, while there were three cases of broken bones and two heart attacks.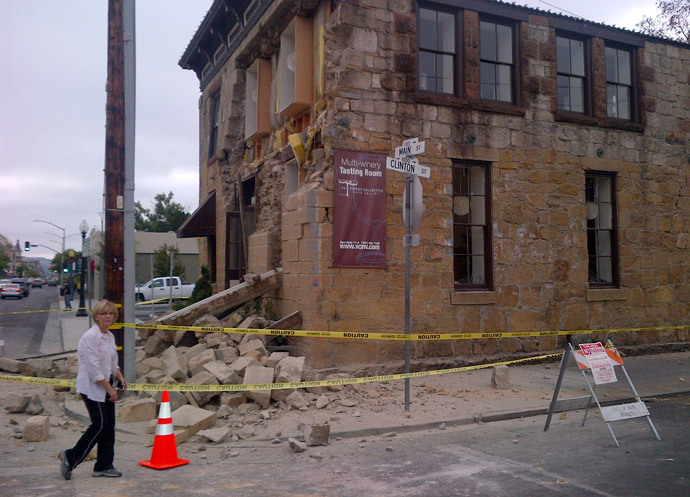 The earthquake struck north of San Francisco near Napa, the center of California's $13 billion wine industry.
Situated between the mountains and the Pacific Ocean, Napa Valley is home to nearly 800 wineries which produced nearly 50 million cases of wine in 2012, according to the Napa Valley Vintners trade association.
August is an important time of year both for tourism and winemaking, and many winemakers have already reported losing product and equipment. Most wineries store barrels and bottles in a compact space, usually on top of one another. A barrel holds 300 bottles of wine, which in Napa retails on average at $50. Vintage bottles are irreplaceable.
Two major distribution companies- Constellation Brands and Diageo have large winery holdings in Napa Valley.
The 1906 San Francisco earthquake played a great role in creating the terrain and conditions for wine growing in Napa Valley. The disaster that struck more than 100 years ago was 500 times stronger than Sunday's tremor.