Hawaii prepares for first direct hit from hurricane in 22 years as second storm looms
Published time: 7 Aug, 2014 18:52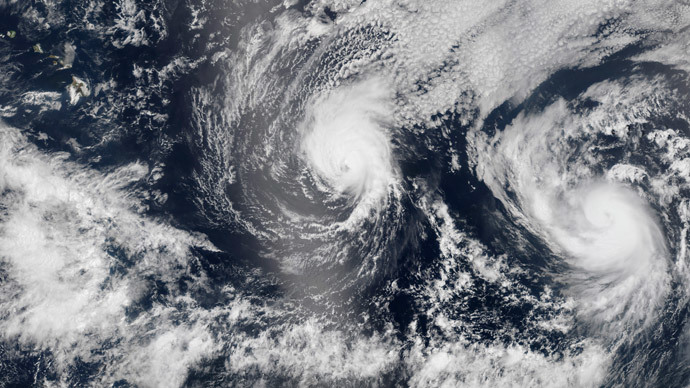 The Big Island of Hawai'i is bracing for a double whammy of hurricanes to make landfall between Thursday and Monday, according to the National Weather Service. The last time the archipelago took a direct hit from a hurricane was 1992.
Iselle, a Category 1 storm, is forecast to arrive on Hawai'i Thursday night local time, then weaken and continue on to the rest of the islands by Friday, according to Weather.com. The storm defied expectations that it would weaken to a tropical storm over the course of the day Wednesday. Iselle is roughly 300 miles east-southeast of Hilo, on the island's eastern corner. It is moving quickly, at 15-20 mph.
"The real effects will probably be felt on the Big Island starting around noon" (6 p.m. ET) on Thursday, Norman Hui, a National Weather Service (NWS) meteorologist in Honolulu, told USA TODAY. "The worst of it will be tonight. This storm is holding together pretty well."
The storm is currently weakening, and forecasters are unsure whether it will make landfall as a hurricane or a tropical storm, Weather.com reported. At 7 a.m. Hawaiian time (5 p.m. GMT), Iselle had maximum sustained winds of 80 mph, placing it in the middle of the Cat-1 range (74-95 mph) on the Saffir-Simpson scale, according to the Central Pacific Hurricane Center (CPHC).
Even still, Iselle is expected to bring heavy rains totaling 5 to 8 inches, winds gusting up to 85 mph, and flooding, while waves could grow up to 28 feet, according to the NWS.
"It's a fairly potent hurricane by Hawaiian standards," said Weather Channel meteorologist Kevin Roth.
Meanwhile, forecasters are also keeping an eye on Hurricane Julio, currently a Cat-2 (defined as winds 96-110 mph). That storm is lurking over 1,000 miles each of the Hawaiian archipelago, with sustained winds of 100 mph. Its current track has it hitting the islands late Sunday or Monday, but it is too far away to make a firm prediction of its course, Hui said.
With the close proximity of the two major storms, as well as a 4.3-magnitude earthquake that struck seven miles (11 km) west northwest of Waimea (and 50 miles from Hilo) on Thursday morning, residents are stocking up on water and non-perishable items.
Honolulu school teacher Gina Nakahodo told Reuters she had felt calm until she reached the empty water aisle of her local grocery store early on Tuesday.
"We've had so many storms that have passed us by, but with these two back to back you begin to worry. Then all of the sudden the aisles are empty and there's no water and it makes your heart pound a little," Nakahodo said.
Hurricanes ‒ especially major ones ‒ are rare on the Hawaiian islands. The last direct hit came from Iniki in 1992, the deadliest and by far the costliest hurricane to ever strike the state. Adjusted for inflation, Iniki caused roughly $3 billion in damages, Weather.com reported. More than 14,000 homes were affected, with 1,421 destroyed and 5,152 with major damage, and four people died.
"While wind was the cause of most of the damages, storm surge and waves obliterated many structures along Kauai's southern shore," Weather.com said. "The other main Hawaiian Islands including Oahu were affected by Iniki, mainly in the form of high surf but also with some wind damage, but Kauai took the full force of the hurricane."
The archipelago was only hit twice before Iniki's arrival, by Iwa in 1982 and by Dot in 1959 (just before Hawaii became a state); both were Category 1 storms. Iwa had 90-mph winds and caused $312 million in damages on the islands of Niʻihau, Kauaʻi and Oʻahu. One person died. Dot caused $6 million worth of destruction, and indirectly led to two deaths, according to the San Francisco Gate.
Because of the infrequency of the major storms, meteorologists don't know how the mountains on Hawai'i will affect Iselle's impact on the island.
"The Big Island has two peaks of up to 14,000 feet. If the hurricane makes a direct hit over the Big Island, how much of a blocking effect that has we don't know," Ray Tanabe, acting director for the NWS in the Pacific Region, told Reuters.
Mike Cantin, another NWS meteorologist, told the Associated Press that the Big Island's terrain should help break up the storm's strength, weakening it to a tropical storm as it heads on to Maui and Oahu. "The volcanoes on the Big Island will do a number on the system," he said.
The biggest problem with the terrain ‒ and the state's distance from the mainland ‒ is its potential for impacting disaster relief efforts.
"With Hawaii's remoteness, it could be as long as a week before a full disaster relief operation can be initiated," the Honolulu Department of Emergency Management said in a statement.
HDEM has released a document of frequently asked questions for residents to prepare for the storms. The department is recommending residents to prepare a seven-day disaster supply kit.