New type of solar plant torching birds out of the sky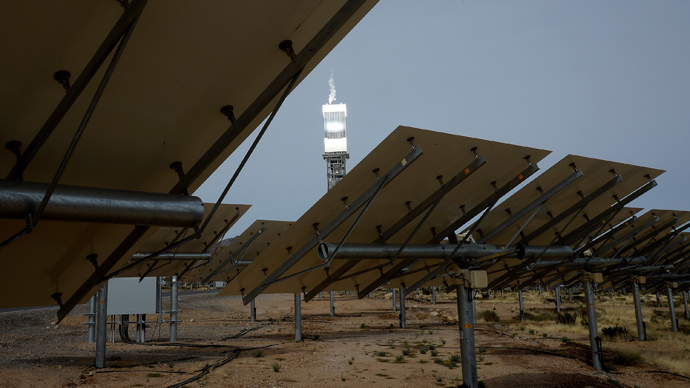 Next generation solar plants are generating more clean energy than ever before, but one in California is torching birds as they fly through the facility's powerful rays, raising concern over a new plant that could prove four times more dangerous to birds.
According to theAssociated Press, workers at the BrightSource Energy plant in the Mojave Desert even have a nickname for the singed birds, which burn up into smoke when they fly into heavily concentrated sun rays: "Streamers." When US Fish and Wildlife officials observed the situation in 2013, they witnessed an average of one "streamer" every couple of minutes.
With estimates ranging from 1,000 dead birds a year to 28,000, the agency is seeking an official death toll for one year of operation at the plant. BrightSource is responsible for delivering the lower number, while the higher one was projected by the Center for Biological Diversity. For now, the agency is also calling on the committee in charge of approving new projects to delay BrightSource's latest application.
Opened in February, the plant has been powering 140,000 homes with the electricity it generates. The facility is composed of three 40-story towers, which produce steam and rotate turbines after the water contained inside is boiled by the solar rays reflected onto it by some 300,000 mirrors.
Speaking with the AP, Garry George of the California chapter of the Audubon Society called the bird deaths "alarming."
"It's hard to say whether that's the location or the technology," he added. "There needs to be some caution."
BrightSource is currently in the midst of trying to gain approval for an even larger plant, this time near the Joshua Tree National Park. The 75-story boiler tower would be located in an area where more than 100 kinds of birds – including the federally protected golden eagle and peregrine falcons – fly through regularly.
The California Energy Commission has already estimated that the plant would be four times more dangerous for birds than the one in the Mojave Desert, and a final decision on the application is expected this coming fall.
Although wildlife officials don't think these types of solar plants are directly luring birds to a fiery death, they do believe the reflected light might be attracting insects. Naturally, birds follow the insects hoping to feed, and end up flying into the powerful rays of light as they hunt.
Plant officials, meanwhile, have not been as concerned over the development, saying that some of the smoke comes from insects and various pieces of trash that are being lit up by the light rays. Wildlife officials, though, said they witnessed birds flying into the light, adding that some puffs of smoke were simply too big to be anything else.
BrightSource is hoping that some kind of solution can be reached without the need to halt construction. The company's senior vice president said that scientists are currently looking into whether various light schemes or sounds can be employed to keep birds at bay.
The company is also willing to spend $1.8 million on programs that would include spaying and neutering cats, which kill more than 1 billion birds every year. This alter proposal, at least, has been criticized for being unhelpful to birds in desert environments.
Still, renewable energy expert Thomas Conroy said as alternative energy source become cheaper, it's important to ensure a variety of them are being used to offset needs to fossil fuels.
"Diversity of technology ... is critical," Conroy said to AP. "Nobody should be arguing let's be all coal, all solar," all wind, or all nuclear. "And every one of those technologies has a long list of pros and cons."
You can share this story on social media: