Obama calls Turkey's next president Erdogan for first time in months
Published time: 12 Aug, 2014 23:20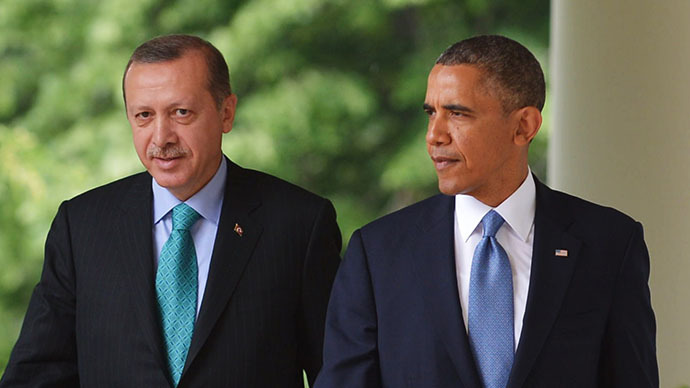 For the first time in six months, US President Barack Obama called Turkish PM Recep Tayyip Erdogan in order to congratulate him on his election as the country's next president and ensure "close cooperation" between the states.
The phone call on Tuesday marked the first time since February the two leaders had spoken directly – a tense period marked by disagreements over various issues, including the conflicts taking place in Gaza and Syria.
On Sunday, Erdogan became Turkey's first directly elected president in its history, garnering 52 percent of the vote. While the position had previously been largely ceremonial, Erdogan is expected to seek ways to strengthen its influence.
According to the White House, Obama "praised the Prime Minister's speech on Sunday and noted that as Turkey's first directly elected President, the Prime Minister has an historic opportunity to further move Turkey forward. "
The two leaders also "agreed on the importance of close cooperation on Syria and Iraq and the terrorist threat emanating from the region," the White House statement read. "The President welcomed Turkey's humanitarian aid to vulnerable Syrians and Iraqis, and both agreed on the need to ensure cooperation and such assistance continue. They also expressed hope that a new Iraqi government will bring all communities together."
Obama and Erdogan also discussed the ongoing attempts to forge a permanent ceasefire in Gaza.
Erdoğan-Obama görüşmesinden bir kare. pic.twitter.com/6tUNbILxbD

— Mustafa Varank (@varank) August 12, 2014
The conflict between Israel and the Palestinians has become a point of contention between the United States and Turkey. Erdogan compared the Israeli offensive to Adolf Hitler's after the military launched its latest ground invasion in Gaza.
"[Israelis] have no conscience, no honor, no pride. Those who condemn Hitler day and night have surpassed Hitler in barbarism," he said in July, triggering a rebuke from the US State Department.
Just a couple of days later, the Turkish leader revealed that he hadn't spoken with President Obama in months, particularly after it became clear that the US would not intervene militarily in Syria. Erdogan is opposed to the government of Syrian President Bashar Assad, and acknowledged he did not agree with Obama's decision to stay out.
"In the past, I was calling him (Obama) directly. Because I can't get the expected results on Syria, our foreign ministers are now talking to each other," he said to the pro-government ATV channel at the time. "And I have talked to (US Vice President Joe) Biden. He calls me and I call him."
Although Erdogan wants to grant the presidency more power, it's unclear if he'll be able to do so. As noted by NPR, his party needs a two-thirds majority in order to expand the president's power, and at this point he does not have that much support.