Turkey's PM Erdogan wins presidential election with 52% - early results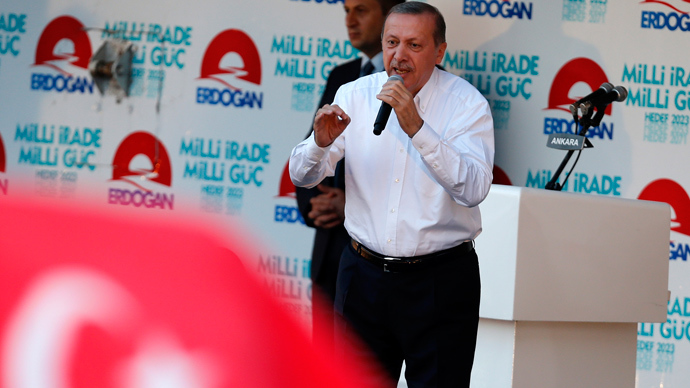 Turkish Prime Minister Recep Tayyip Erdogan has won the presidential election with 52 percent of the vote, according to early results. Thus, Erdogan has become the country's first popularly-elected head of state.
The High Election Board (YSK) chair, Sadi Güven, has announced Erdogan's victory in the presidential election, according to interim results.
"The chairman of the AK Party and the prime minister of Turkey, Recep Tayyip Erdogan, has become the first president elected by the people," Justice Minister Bekir Bozdag posted on his Twitter account.
With 99.05 percent of the ballots counted, Erdogan leads with 51,71 percent, the Hurriyet Daily reports. Ekmeleddin Ihsanoglu, former Secretary General of the Organization of Islamic Cooperation, has received 38,56 percent of the votes. Selahattin Demirtas, head of the leftist pro-Kurdish People's Democratic Party, is in third place with just under 10 percent.
Erdogan, who is currently serving as the country's prime minister, will become Turkey's first president elected in a popular vote. Until now, the country's presidents have been elected by members of the Turkish Parliament. The amendment which changed the way Turkey elects its leaders was first drafted in 2007.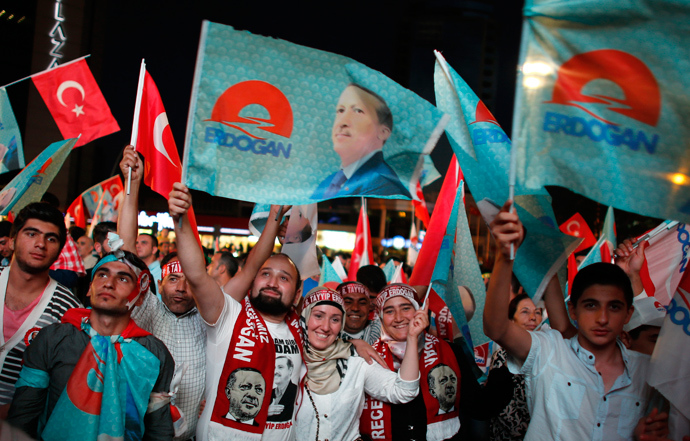 Erdogan welcomed first exit polls, saying that the people of Turkey have "shown their will."
"I hope the final whistle will be blown by the referee, but the stands have made their decision. The people have shown their will," Erdogan told crowds of supporters at a convention center in Istanbul.
"The moment the results reach 100 percent we will call out from our balcony at our [party] headquarters," he said.
Thousands gather outside #AKP headquarters in #Ankara to celebrate @RT_Erdogan election victory #Turkeypic.twitter.com/S653G5BVE9

— Jamal Elshayyal جمال (@JamalsNews) August 10, 2014
Turkey's electoral authorities are not expected to officially announce the first results until Monday, while final figures are due later in the week.
However, main opposition candidate Ekmeleddin Ihsanoglu has already congratulated Erdogan on his victory.
"I congratulate Mr. Prime Minister and wish him success," he said in a brief statement to reporters in Istanbul.
Erdogan's expected victory comes less than six months after his ruling AK Party won local elections in March.
Wrapping up his presidential campaign on Saturday, Erdogan addressed thousands of his supporters, saying that his victory would mark the dawn of a "new Turkey."
He vowed to raise democratic standards and help boost the economy to make Turkey a "world leader and global power."
Erdogan said he would exercise the full powers granted to him by current laws. He plans to make changes to the country's current constitution, in order to establish a fully executive presidency.
The constitution that is now in place was written under military rule after a 1980 coup, and enables the newly-elected president to chair cabinet meetings and appoint the premier and members of top judicial bodies – including the Constitutional Court and Supreme Council of Judges.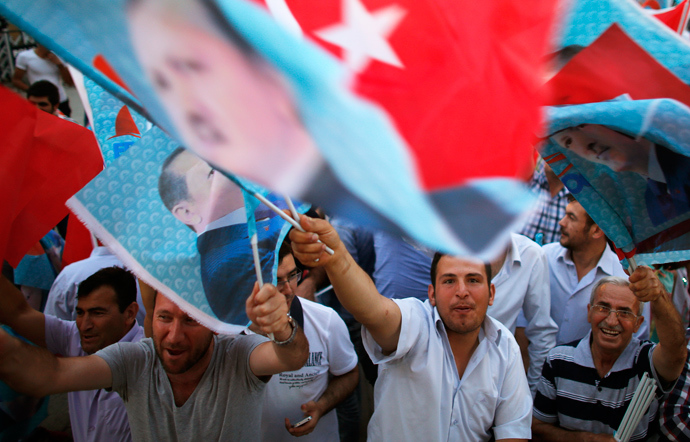 However, those powers have seldom been used and the Turkish presidency is largely a ceremonial office.
The opposition has been warning that an Erdogan victory would lead the country further away from the secular ideals of modern Turkey's founding father, Mustafa Kemal Ataturk.
Erdogan's critics accuse him of cracking down on media and internet freedom, and condemn his generally authoritarian style of leadership.
The past year has been especially tough for Erdogan; he was shaken by nationwide anti-government protests last summer, which were followed by a corruption scandal in his political circle.
Those challenges affected Erdogan's popularity, resulting in a decreased approval rating, according to pre-election surveys. Serving as prime minister for over a decade, Erdogan had garnered significant support by 2010, when Turkey enjoyed one of the world's highest growth rates at 8.9 percent.