Obama calls criticism of his Syria policy 'horses**t'
Published time: 12 Aug, 2014 16:56
Edited time: 12 Aug, 2014 17:39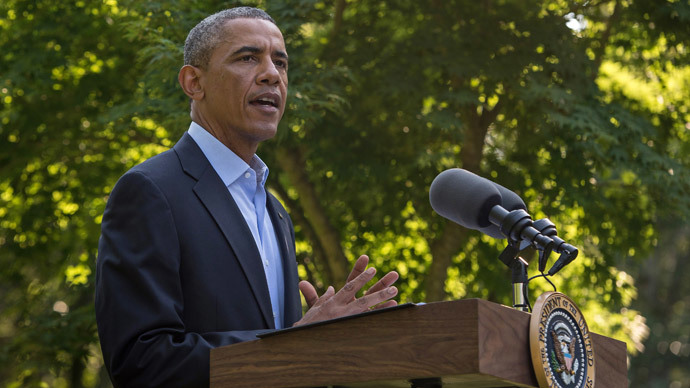 President Barack Obama has been roundly criticized in recent years for a supposed lack of support for so-called moderate rebels fighting the Syrian government. What does he think of such critiques? "Horseshit," he recently told lawmakers.
The Daily Beast reported that Obama, in a White House meeting on July 31 over foreign policy with about a dozen House and Senate leaders, was pressed over his administration's handling of requests for arms and other support made by opposition groups in Syria. During the meeting, Sen. Bob Corker criticized this policy and others related to the administration's posture in Ukraine and Iraq, according to lawmakers in the meeting.
A "visibly agitated" Obama, according to the report, defended his administration's foreign policy decisions, saying that any notion of a better outcome had the US offered increased support to rebels in the Syrian civil war against Bashar Assad's forces was "horseshit."
The White House confirmed the exchange between Corker and Obama, but would not confirm the president's use of choice language.
Obama recently told the New York Times, in less heated terms, that arming anti-government rebels earlier in the conflict would have made a major difference has "always been a fantasy."
"This idea that we could provide some light arms or even more sophisticated arms to what was essentially an opposition made up of former doctors, farmers, pharmacists and so forth, and that they were going to be able to battle not only a well-armed state but also a well-armed state backed by Russia, backed by Iran, a battle-hardened Hezbollah, that was never in the cards," Obama said.
Criticism over the Obama administration's policies in Syria have bubbled to the surface once again of late, as the Islamic State, a jihadist group formerly allied with Al-Qaeda that developed during the Syrian conflict, has now made major territorial gains in northern and western Iraq.
Islamic State's latest advances - met with American airstrikes over the weekend - spurred the Obama administration's previous secretary of state, Hillary Clinton, to slam her former boss' supposed "failure" to contain the spread of Islamic extremists in the region.
"The failure to help build up a credible fighting force of the people who were the originators of the protests against Assad —- there were Islamists, there were secularists, there was everything in the middle -— the failure to do that left a big vacuum, which the jihadists have now filled,"Clinton said in an interview with the Atlantic.