Russian nuclear-capable bombers 'tested' US air defenses 16 times in last 10 days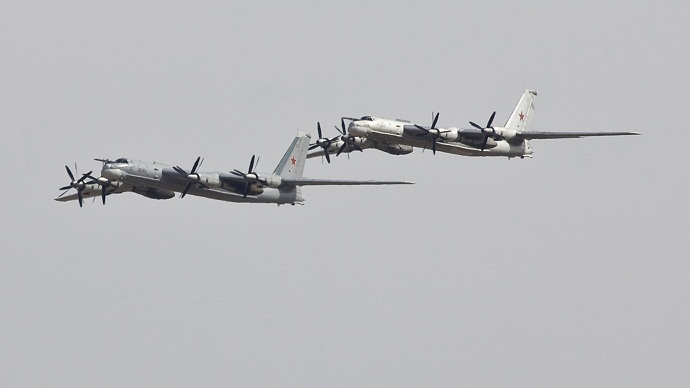 Russian strategic nuclear bombers and other military aircraft entered US air defense identification zones (ADIZs) at least 16 times over the past ten days, American defense officials confirmed on Thursday.
"Over the past week, NORAD has visually identified Russian aircraft operating in and around the US air defense identification zones," said Maj. Beth Smith, spokeswoman for US Northern Command and the North American Aerospace Defense Command (NORAD).
Smith sought to downplay the incursions that she called "a spike in activity," telling the Washington Free Beacon's Bill Gertz that the flights were assessed as routine training missions and exercises.
But an unnamed defense official familiar with the incursion reports disagreed with Smith's assessment. "These are not just training missions," the official told Gertz, saying that Russian strategic nuclear forces appear to be "trying to test our air defense reactions, or our command and control systems."
NORAD scrambled fighter jets several times when Russian strategic aircraft flew along US ADIZs. The planes included a mix of Tu-95 Bear H heavy bombers and Tu-142 Bear F maritime reconnaissance aircraft, as well as one IL-20 intelligence collection aircraft, Smith said.
The bomber flights took place mainly along the Alaskan air defense identification zone that covers the Aleutian Islands and the continental part of the state, and one incursion involved entry into Canada's air defense zone, she added.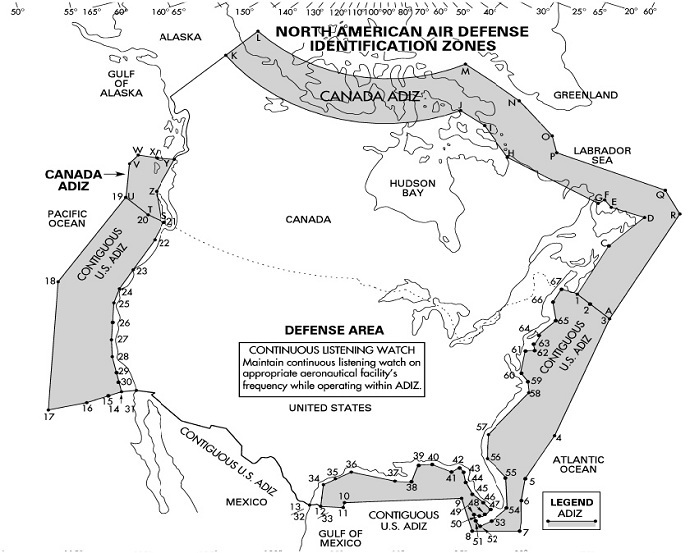 "Such aerial bravado has been rare since the fall of the Soviet Union," News.com.au wrote. "Until now."
"And it all appears to be a direct result of the cooling of relations between the West and Russia over the invasion of Crimea and the shooting-down of MH17," the Australian News Corp site added.
During the Cold War, Soviet bombers sought to trigger US air defenses as preparation for a potential nuclear conflict.
The recent spike in activity after a surface-to-air missile brought down the Malaysia Airlines plane is not the first time Russian military planes were detected in US ADIZs this summer. On June 9, a pair of Tu-95 Bear H aircraft maintained by Russia came close to US airspace during practice bombing while four of the planes were conducting bombing runs near Alaska, a NORAD spokesman told Gertz.
"After tracking the bombers as they flew eastward, two of the four Bears turned around and headed west toward the Russian Far East," he wrote of the June incident. "The remaining two nuclear-capable bombers then flew southeast and around 9:30 P.M. entered the US northern air defense zone off the coast of Northern California."
Those two aircraft, Gertz added, made it within 50 miles of the coast before turning around after a US F-15 intercepted them.
Russian aircraft have also made incursions into other countries' airspace this year. In June, the UK's Royal Air Force scrambled Typhoon fighter jets to intercept four flights of aircraft in the airspace around the Baltic states. The planes included advanced Tu-22M Backfire bombers, Su-27 Flanker interceptors, an A-50 Mainstay radar aircraft and a transport aircraft, News.com.au wrote. Russian-owned Tu-95 bombers skirted UK airspace and have come close to US property in both Guam and California, The Aviationist reported in May.
In an April incident in international airspace between Russia and Japan, two Russian Su-27 Flanker interceptors flew beneath a US Air Force reconnaissance plane, then "popped up" ahead of the jet, which was forced to take evasive maneuvers, according to News.com.au.
The United States has been flying spy missions of its own, however. Over the weekend, US officials confirmed Swedish media reports that an American spy plane invaded Sweden's airspace in mid-July. The maverick plane was spying on Russia when it was intercepted, and was evading a Russian fighter jet when it entered Swedish airspace without permission. Air traffic control had denied the Boeing RC-135 Rivet Joint entrance, Svenska Dagbladet (SvD) newspaper said. The incident occurred on July 18, the day after MH17 was shot down.
You can share this story on social media: