Belarus to offer Russia to deploy extra warplanes as NATO active near borders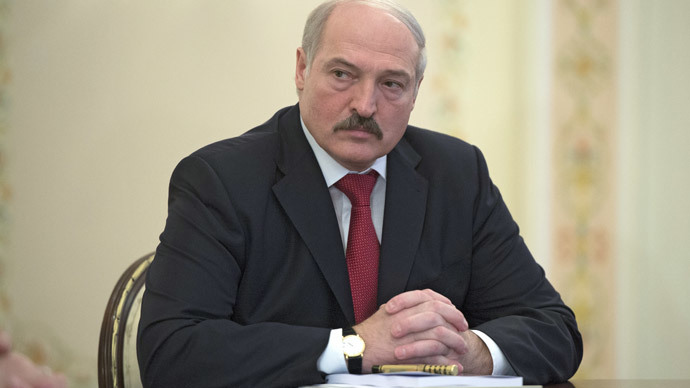 Belarus will request Russia to deploy up to 15 extra warplanes on its territory, as NATO is building up military presence in proximity to the Belarusian borders, President Aleksandr Lukashenko announced.
Speaking at a session of the country's Security Council, he also vowed "a reasonable response" to NATO's strengthening contingent near Belarus boundaries.
He stressed that Minsk "reacted calmly until a large exercise began in Poland which requested reinforcements and larger scope of the exercise."
Lukashenko referred to the US deployment of a dozen F-16 fighter jets and nearly 300 service personnel to Poland a part of a training exercise which came in response to the crisis in neighboring Ukraine.
Aside from that the US also sent six F-15 fighter jets to Lithuania, in addition to four F-15s, which arrived on January 1, to bolster NATO' air patrol over Baltic airspace.
"They threw in extra half a dozen fighters and some other planes which operate close to our borders, and we are acting reasonably. The Minister of Defense received such an order long ago and, as I am being told, it [the order] is being fulfilled," Lukashenko said.
From the west and northwest, Belarus borders on the NATO member states of Poland, Latvia and Lithuania, and sees combat air patrols of these Baltic states' airspace as a potential threat to its national security.
The situation in neighboring Ukraine, where Belarus leader said "we have seen escalation of the conflict" is affecting interests of his country, he pointed out.
"This escalation is happening not in Syria, Libya or Iraq. It's near our borders," he stressed.
Lukashenko has called on Ukrainian coup-appointed government to focus on solving domestic conflict rather than on negotiations with the West.
"[They] just have to work, and less run abroad. It is necessary to think about their country and the welfare of the people. How to do it? If necessary, we will advise and help," Lukashenko said.
When asked if the Ukraine scenario is possible in Belarus, as some media reports speculated, the President ruled out such possibility, saying that "there will be no Maidan in Minsk".
"We are not afraid of anything, absolutely, even more so, I am not. We have no fundamental, conceptual reasons for such revolutions. And the main reason for that [revolution in Ukraine] we all know: terrible economic collapse, corruption, which led to the collapse of the authorities," he said
Lukashenko added that Belarus will act within the legal and regulatory framework which exists between Belarus and Russia. "I have said it several times that Russians and Belarusians are one people and we will always be together."
Russia and Belarus manage reciprocal air defense and joint military maneuvers under agreements signed within the Russia-Belarus Union State which was formed in 1999. Moscow and Minsk also have an agreement (since 2009) on joint protection of the Russia-Belarus Union State's airspace and the creation of an integrated regional air defense network.
Last year, Minsk and Moscow agreed on Russia's deploying a wing of fighter jets at a military airbase in Belarus. Russia also planned to deliver four battalions of S-300 surface-to-air missiles to Belarus in 2014.
Belarus is not going to be "an initiator of escalation of any process in connection with the Ukrainian events and the confrontation of the West, the US, on the one side and Russia - on the other," Lukashenko concluded. "We will serve the interests of our country, as well as our friends and neighbors, that's why don't try to scare us in this respect."
You can share this story on social media: