NYPD cops use illegal chokehold on suspected subway farebeater (VIDEO)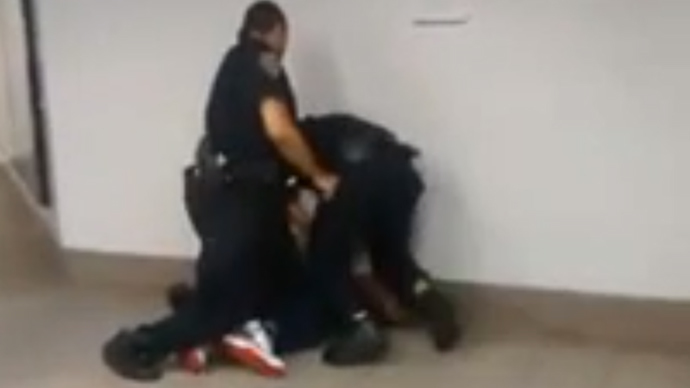 New York City police officers are under investigation for using a chokehold, a move banned under NYPD rules, on a man accused of skipping subway fare. The incident occurred three days before Eric Garner died during a similar arrest.
Videos posted online show two New York Police Department officers wrangling with Ronald Johns, 22, on July 14 while using the banned technique. The officers are also seen punching Johns in the face. Pepper spray was also used in the "struggle" to subdue him, officers said according to court papers.
Johns was pursued by officers for allegedly sneaking through an emergency exit and refusing to show ID at an East Harlem subway station, according to court records first reported by DNAInfo. He was charged with turnstile-jumping, resisting arrest, and trespassing.
Police say Johns "flailed his arms and twisted his body to prevent Officer [Colin] McGuire from putting handcuffs on him," according to a criminal complaint.
Bystanders watching the arrest can be heard chiding officers for aggression - "Stop punching him!" one man shouts - while others pleaded with Johns to allow officers to apply handcuffs to his wrists.
"He was standing here. That's f*cked up," one woman can be heard saying. "F*cked up. That's f*cked up."
NYPD Internal Affairs are reportedly investigating the incident. The two officers in the case say they were injured in the process of the arrest and were on medical leave as of Wednesday, CBS New York reported.
Johns was eventually released without bail and is due to face charges in court in September.
The incident was reminiscent of the chokehold NYPD officers applied to Eric Garner, a Staten Island man who died on July 17 in the process of his aggressive arrest for allegedly selling cigarettes illegally. The city medical examiner has yet to determine whether the chokehold applied to Garner - who suffered from acute asthma - was the cause of his death.
Garner's funeral was held on Wednesday at a Brooklyn church, where police misconduct and racial motivations involved in episodes of police brutality were at the forefront, Reuters reported.
"We are going to march until we no longer have to come to funerals for this reason," Bishop Victor Brown of Staten Island's Mount Sinai United Christian Church said to an approving congregation at Bethel Baptist Church.
"We are going to continue to march until there is drastic reform of the policy of the New York City police department so that when police officers show up in our community we will no longer have to fear for our lives and run from their presence."
NYPD police commissioner Bill Bratton has said he did not think race was a factor in Garner's violent arrest. New York Mayor Bill de Blasio - who called Garner's death a tragedy - hired Bratton in the course of supposed efforts to mend relations with black and Latino communities disproportionately targeted by the city's stop-and-frisk policy, which was deemed unconstitutional by a federal judge last year.
"We're going to do more than just a review of Staten Island," Bratton said Tuesday. "The department needs to do a lot — a lot — in the area of training."
Yet Bratton's young term as commissioner has done little to curb criticism of the NYPD's methods, and the death of Garner, 43, seems to have further inflamed long-standing tensions.
"Let's not play games with this," activist and television personality Rev. Al Sharpton said during Garner's service. "You don't need no training to stop choking a man saying, 'I can't breathe!' You don't need no cultural orientation to stop choking a man saying, 'I can't breathe!' You need to be prosecuted."
Though chokeholds have been banned by the NYPD since 1993, the Civilian Complaint Review Board announced over the weekend that there have been 1,022 complaints about the technique's use between 2009 and 2013.
You can share this story on social media: