New York City mayor paves the way for stop-and-frisk reform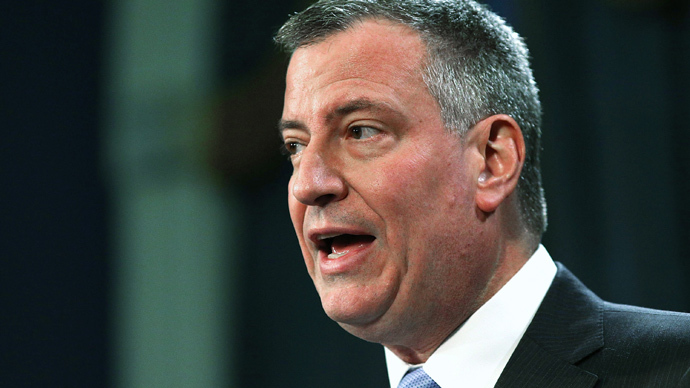 New York Mayor Bill de Blasio announced on Thursday that his administration has filed court papers that would drop the city's appeal of a court ruling mandating reform of the police department's controversial stop-and-frisk policy.
According to the New York Times, the city has agreed to settle the case with civil rights lawyers who successfully argued in court last year that the New York Police Department's stop-and-frisk tactics were unconstitutional and unfairly targeted minorities.
The move paves the way for the city to implement reforms mandated by Judge Shira Scheindlin last summer, which include establishing a court-appointed monitor to oversee the process for three years. Scheindlin ruled that the NYPD's tactics when it came to choosing who to stop, question and search resulted in "the disproportionate and discriminatory stopping of blacks and Hispanics in violation of the Equal Protection Clause."
Those reforms were put on hold since the city's mayor at the time – Michael Bloomberg, who was a strong supporter of the NYPD's behavior – appealed the ruling. Now, de Blasio is looking to put an end to the case.
"We're here today to turn the page on one of the most divisive problems in our city," de Blasio said at a press conference, according to the Times. "We believe in ending the overuse of stop-and-frisk that has unfairly targeted young African-American and Latino men."
"This is a defining moment in our history," de Blasio added in a press release. "It's a defining moment for millions of our families, especially those with young men of color. And it will lay the foundation for not only keeping us the safest big city in America, but making us safer still. This will be one city, where everyone's rights are respected, and where police and community stand together to confront violence."
As reported by the Associated Press, police stops using the procedure jumped to more than 5 million over the last 10 years. Ten percent of all stops resulted in arrests, while weapons were uncovered by police two percent of the time. As RT noted last year, a report by New York State Attorney General Eric Schneiderman also found that stop-and-frisk's effectiveness was roughly equal to standard police procedure.
Meanwhile, a 2013 study by the Vera Institute of Justice found that stop-and-frisk tactics eroded the public's trust in law enforcement to the point that even victims of violent crimes were less likely to go to the police for help.
Under the terms of the settlement, the city will take recommendations from communities most affected by stop-and-frisk to ensure residents have a role to play in reform.
"We will not break the law to enforce the law," said Police Commissioner Bill Bratton. "That's my solemn promise to every New Yorker, regardless of where they were born, where they live, or what they look like. Those values aren't at odds with keeping New Yorkers safe — they are essential to long-term public safety. We are committed to fulfilling our obligations under this agreement as we protect and serve this great city."
You can share this story on social media: