Another botched execution? Arizona inmate took 2 hours to die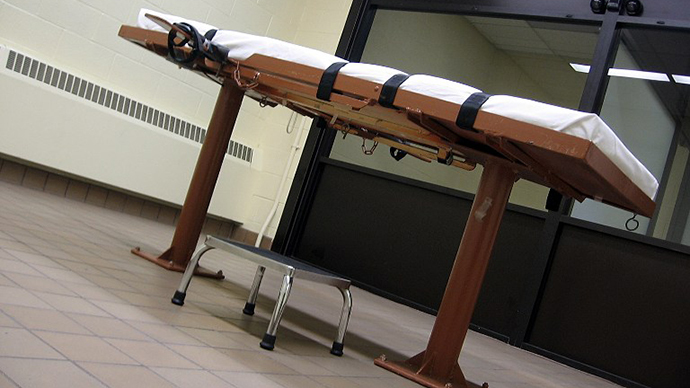 Arizona Governor Jan Brewer ordered a full review of the execution of Joseph Wood. The death row inmate remained alive, gasping for breath, for nearly two hours after the state began the execution.
The process began at 1:52 p.m. local time. After five minutes, officials reported Wood was sedated. At 2:02 p.m. he began breathing. A minute later, his mouth moved. The convicted killer was pronounced dead at 3:59 p.m. PT, one hour and 57 minutes after the execution started.
Wood's lawyers filed an emergency court appeal Wednesday after the lethal injection did not immediately take effect, leaving him "gasping and snorting for more than an hour."
"We respectfully request that this court stop the execution and require that the Department of Corrections use the lifesaving provisions required in its protocol," the lawyers said in the US District Court filing. "He is still alive. This execution has violated Mr Wood's eighth amendment right to be executed in the absence of cruel and unusual punishment."
The court declined to step in, and the contingency plan was not enacted.
Wood's protracted death called to mind the botched executions of Ohio inmate Dennis McGuire in January and of Oklahoma inmate Clayton D. Lockett in April.
McGuire's death has been described as one of the longest executions in the history of Ohio, at 25 minutes. During that time, the Columbus Dispatch reported that McGuire was "struggling and gasping loudly for air, making snorting and choking sounds that lasted for at least 10 minutes, with his chest heaving and his fist clenched. Deep, rattling sounds emanated from his mouth."
In Lockett's case, prison officials eventually canceled the execution after 14 minutes because he was still moving and looked up to say, "Something's wrong." He died of a heart attack nearly 45 minutes after his execution went wrong. During the procedure, officials administered more drugs than necessary and burst a vein.
Earlier on Wednesday, the US Supreme Court upheld Arizona's secrecy surrounding its lethal injection drugs, lifting the stay of execution for Wood issued by the Ninth US Circuit Court of Appeals. In its decision, the high court did not address his lawyer's argument that the double murderer had a First Amendment right to know the source of the drugs that would be used to execute him.
In a statement, Brewer said she directed Arizona's Department of Corrections to carry out a full review of what occurred during the two-hour ordeal, but that justice had been served.
"One thing is certain, however, inmate Wood died in a lawful manner and by eyewitness and medical accounts he did not suffer," the Republican governor said. "This is in stark comparison to the gruesome, vicious suffering that he inflicted on his two victims, and the lifetime of suffering he has caused their family."
Wood, 55, was sentenced to death for the murder of his girlfriend and her father in 1989.
You can share this story on social media: