Oregon to vote on legalizing recreational marijuana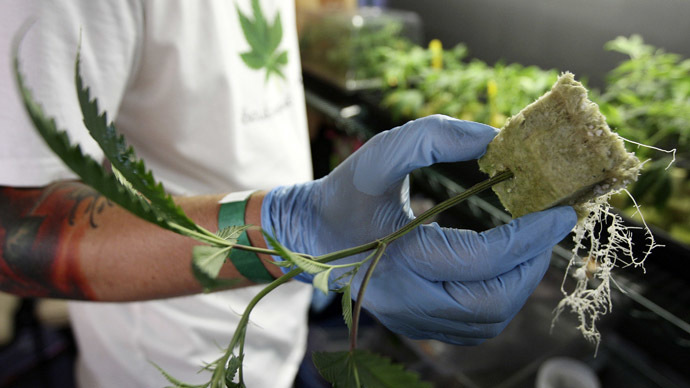 Voters in the state of Oregon will decide via a ballot initiative in November whether to legalize and regulate recreational marijuana.
Initiative Petition 53 has gained enough public approval to earn a slot on the November ballot, according to the Oregon Secretary of State's office.
"Initiative Petition 53 has qualified for the November ballot," Tony Green, communications director for Oregon Secretary of State Kate Brown, told The Huffington Post on Tuesday.
The petition, submitted by marijuana reform group New Approach Oregon, was verified by Brown's office as having more than 87,000 signatures.
The ballot initiative text proposes the right to possess up to eight ounces of cannabis at one's home and one ounce in public for adults ages 21 and over.
The Oregon Liquor Control Commission would handle regulation of the marijuana industry, similar to the regulatory guidelines approved in Washington state, which began selling legal recreational marijuana this month. Taxes from pot sales would go to funding state schools, law enforcement, and drug prevention and education programs.
Recent polling has showed that 57 percent of the Beaver State's likely voters in 2014 support the legalization of recreational pot. The state has already decriminalized marijuana and approved it for medicinal purposes.
Oregon Gov. John Kitzhaber has indicated he would support a legalization effort should it come as far as his desk.
"I hear the drumbeats from Washington and Colorado,"Kitzhaber said earlier this year. "I want to make sure we have a thoughtful regulatory system. The legislature would be the right place to craft that."
In the US, only the states of Colorado and Washington have passed laws legalizing the cultivation, sale, and use of recreational marijuana even though federal officials still consider pot to be a Schedule 1 narcotic. Colorado shops officially began selling it on January 1 after voters approved a ballot initiative in November 2012.
The state of Alaska will also vote on a legalization proposal this fall.
"With legalization initiatives qualified in two states -- with another in D.C. likely to be certified soon -- plus several recent wins on the floor of the Republican-controlled U.S. House, 2014 is shaping up to be the biggest year for marijuana reform yet," Tom Angell, chairman of the advocacy group Marijuana Majority, told The Huffington Post. "If we win these legalization initiatives, it's not only likely that more states will follow suit in 2016, but that presidential candidates on both sides of the aisle are going to see the value in being perceived as pro-reform."
"There's no question it's something the contenders will get asked about in debates," Angell added. "The more wins our side puts on the board, the more likely it is the candidates will feel like they need to court voters who support legalization."
Nearly half of the United States currently has provisions in place allowing for medicinal marijuana to be lawfully dispensed.
You can share this story on social media: