Rocky Mountain high: Colorado smoking 130 tons of pot annually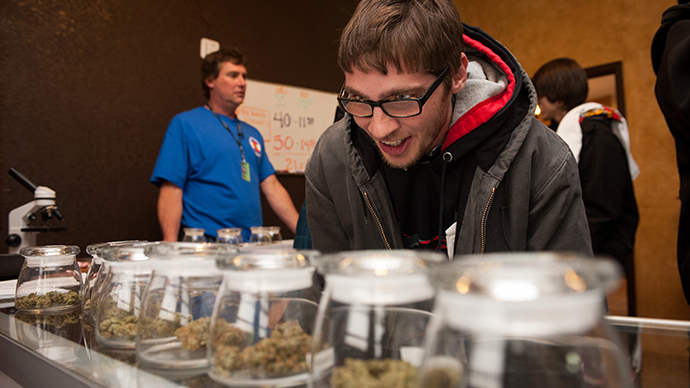 ​Although President Obama declined an offer to sample marijuana during a visit to Denver this week, he may be in the minority on the issue as market demand for pot in Colorado beat expectations at 130 tons a year, according to a study.
A report released by the Colorado's budget office indicated that more than 90 percent of market demand came from residents, while out-of-state tourists and visitors accounted for about 9 tons. However, the ratio narrows considerably in the metropolitan areas.

In the Denver metropolitan area, for example, it estimated that out-of-state visitors accounted for about 44 percent of retail sales, compared with about 90 percent of turnover in mountain and other vacation areas.
"The primary difference is caused by much heavier dosage amounts consumed by the state's 'heavy user' population - those who consume marijuana on a daily basis," said the report, prepared for the Colorado Department of Revenue.

"The retail demand is derived primarily from out-of-state visitors and from consumers who previously purchased from the Colorado black and gray markets."

Since legalizing cannabis in January, the western state is enjoying robust tax gains, according to the study, as the retail supply of marijuana continues to climb. Meanwhile, the use of marijuana for medical purposes remains relatively unchanged.
The population of Colorado was 5,268,367 on July 1, 2013, according to data from the US Census Bureau.

The report was released one day after Washington became the second state to legalize marijuana for adult consumers.

Obama, who was in Colorado on Wednesday, was asked by someone if he'd like to try some marijuana.
"Do you want to hit this?" a man asked Obama as he paid a visit to a bar in Denver, according to a video posted by Instagram user manton89.

Obama laughed off the offer as he walked through the crowd greeting patrons.