Washingtonian fired after buying legal marijuana gets his job back
Published time: 11 Jul, 2014 19:17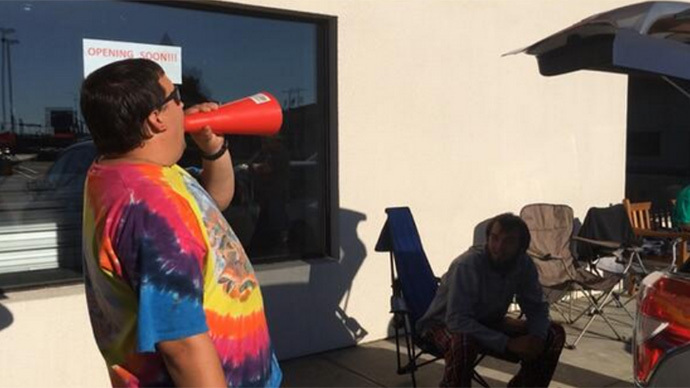 The Washington man who says he was fired for making one of the state's first legal recreational marijuana purchases earlier this week will reportedly soon be back on the job.
Mike Boyer made headlines on Tuesday after he camped out in front of the Spokane Green Leaf dispensary for around 19 hours in order to become the first person in the city to legally buy weed under new laws that saw similar shops opening up across the state this week.
Boyer did not shy away from the media when the shop finally opened its doors that afternoon, and outlets far and wide photographed the 30 year old celebrating his $50 purchase of four grams of Sour Kush. Soon after, though, he reportedly suffered from an unexpected backlash: as RT reported previously, Boyer claimed that within hours of becoming the first person to legal buy marijuana in Spokane he had been fired from work.
"I lost my job due to the news coverage," Boyer wrote on Craigslist on Wednesday. "I regret nothing. But now I'm jobless and have decided to post my resume here."
The press soon pounced on the posting, and soon stories about Washington's first days of legal pot were littered with profiles of Boyer and his claims of becoming unemployed only hours after making Spokane's first purchase.
Thankfully for him, Boyer is now telling reporters that there was a misunderstanding and he is back on the job. Writer Jake Ellison at Seattle PI spoke with the man over the phone on Thursday, and learned that Boyer's employment status was only momentarily made hazy but has since been restored.
According to Boyer, he's most recently been working for an area temp agency known as TrueBlue Labor Ready, where he's been handed around 40 hours a week working in the auto auction industry as of late. Less than an hour after he walked out of Green Leaf on Tuesday, he told Ellison, TrueBlue texted him to say he had one day to take a drug test or be fired.
Having just legally purchased weed — which he wholeheartedly intended on smoking immediately — Boyer claims he told TrueBlue that taking the test would return not so favorable results. He didn't hear back from the temp agency until Thursday morning, Boyer added to the paper, when he was told to come in and presumably be officially fired. Instead, Ellison wrote, "they offered him his job back because he was not high on the job and had used on his legitimate day off."
"Stacey Burke, a spokeswoman [for' Tacoma-based TrueBlue, says company policy prohibits being under the influence on the job," the Associated Press then reported. "She said there's no reason he would have been fired for having bought the pot, nor would the purchase have given the company reason to order him to take a drug test. She says the company is looking into Boyer's claims, and that if he was fired outside of protocol, he would be reinstated."
Mike Boyer is camping out to be the 1st person to buy pot in #Spokane when it goes on sale tomorrow. @KHQLocalNewspic.twitter.com/SFv1aUHHoG

— Patrick Erickson KHQ (@patrickerickson) July 8, 2014
Indeed, the Seattle Times reported on Thursday afternoon that all was well with Boyer's case.
"We wouldn't terminate an employee for purchasing pot," Burke told the Times. "The purchase of pot is legal."
Speaking to NBC, Burke explained further the process that unfolded after their temp worker was seen on the national news purchasing pot from Spokane Green Leaf.
"We were not aware that he had taken the day off. He was scheduled to work, we saw him on TV that he was under the influence, and that caused us to start a process of screening," she said. "When we realized that he was not on assignment, we reinstated him. ... Pot is legal, and we know that."
Boyer added to Ellison's report that a second employer, Kodiak, asked him to submit to a drug test on Tuesday as well, which he took the following day.
"Kym Ramey, human resources manager for Kodiak, said that Boyer, who has worked there for several weeks, is still employed by the firm," The Spokesman Review has sine reported.