Job up in smoke! Cannabis lover loses work after being first to buy legal pot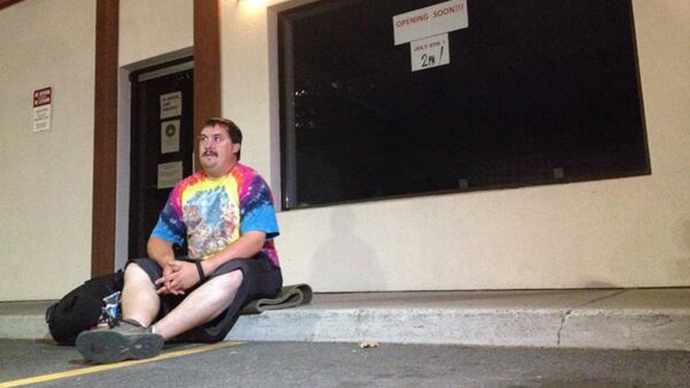 Mike Boyer from Washington State had been waiting for hours before the first marijuana legal shop opened in his town. But after purchase, the pot enthusiast received a demand from his employer to undergo a drug test, he told local media.
Legal marijuana sales begin in Washington, second state to allow pot without prescription
Mike Boyer's adventure started on Monday evening when the 'pot hunter' headed to the Green Leaf in the town of Spokane, one of 25 retail cannabis shops which received licenses to sell weed this week.
He camped overnight, waiting with eager anticipation for the shop to open.
"I brought my surplus army sleeping bag and bedroll. I brought my Doritos and Mountain Dew. I was stylin'!" Boyer says.
First man in Spokane to buy recreational marijuana. Mike Boyer says he's gonna go home and test it and take a nap. pic.twitter.com/ZaerUJcSzX

— Aaron Luna (@LunaKXLY) July 8, 2014
The 30-year-old cannabis lover finally bought his cherished stash of Sour Kush for $50 dollars, and the happy purchase was broadcast by TV stations and photographed by newspapers
Mike Boyer scouting out the supply inside #Spokane Green Leaf. He is here for historic reasons, he wanted to be "#1" pic.twitter.com/EVI0Cpme11

— Breanna Roy (@BreannaRoy) July 8, 2014
Boyer said that when he headed home to enjoy the fun, he received a message from his employer that he should do a drug test. He told The New York Daily News that he did the test and it came back positive for THC, the mind-altering ingredient in marijuana. After the test, Boyer told the local newspapers that he lost his position at Kodiak Security Services.
"I've worked for them on and off for 12 years and several years ago, I signed a document that said I wouldn't have [THC] in my system," he told NY Daily news, "I don't smoke at work!"
Mike Boyer is first in line to buy legal pot! He came out to Spokane Green Leaf at 7 p.m. last night! #kxlypic.twitter.com/oAGDza0zRJ

— Allie Norton (@AllieKXLY) July 8, 2014
The company demanded Boyer undergo a drug test which is carried out according to company policy. They further denied that they had sacked Boyer.
"We're a security firm," said Kym Ramey, human resources manager for Kodiak. "Our employees can't be under the influence on the job."
Making history! says Mike Boyer waiting at #GreenLeaf to be the 1st to buy #LegalPot in Spokane. @krem2pic.twitter.com/BiCrbAZ7j4

— Laura Papetti (@KREM2Laura) July 8, 2014
According to the Washington Liquor Control Board, dealing with the implementation of cannabis rules, employers are allowed to continue testing their workers according to internal company policy.
Mike Boyer is camping out to be the 1st person to buy pot in #Spokane when it goes on sale tomorrow. @KHQLocalNewspic.twitter.com/SFv1aUHHoG

— Patrick Erickson KHQ (@patrickerickson) July 8, 2014
Boyer's mood was still high as he seized his moment in history – he was the first cannabis buyer in his town of Spokane.
"I'm still the captain! I'm still number one!" he told the Vocativ news website. "I mean, a man can always get a job. But a man can only be the first person to buy recreational cannabis in Spokane once."
Boyer published his resume on the internet bulletin board Craigslist on Wednesday, titling the post "LOST MY JOB! still #1 tho!!"
"I lost my job due to the news coverage of me being the FIRST PERSON TO BUY MARIJUANA LEGALLY IN SPOKANE!" Boyer wrote. "I regret nothing. But now im [sic] jobless and have decided to post my resume here. Thanks for reviewing it."