Marine Corps tests massive new amphibious assault vehicle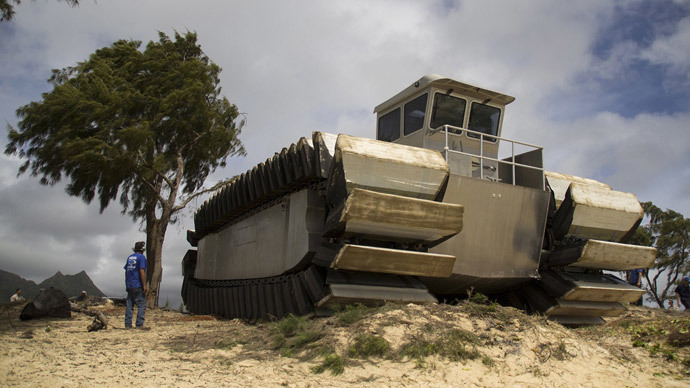 ​The Marine Corps is testing a new amphibious landing vehicle which dwarfs its current hydrofoil lander and will be able to land multiple battle tanks at once.
The US Marines currently deploy heavy equipment and personnel using the Landing Craft Air Cushion, or LCAC. Those landers have been in service since the mid-1980s, and have allowed the American armed forces to launch amphibious assaults from up to 86 nautical miles away.
The next generation of amphibious lander is now being put through the motions by the Marines. Dubbed the Ultra Heavy-Lift Amphibious Connecter, or UHAC, the new lander seeks to replace the LCAC by offering almost three times the payload, topping out at 190 tons.
In addition to greater hauling capacity, the UHAC will also increase launch range to some 200 nautical miles, and will be able to carry three main battle tanks ashore, each weighing some 60 tons.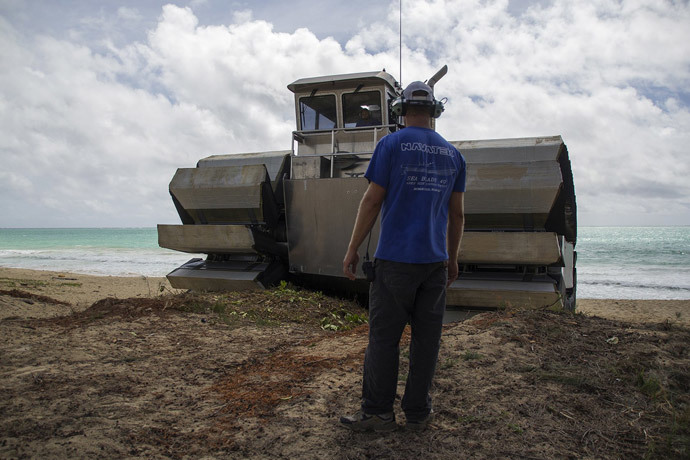 The UHAC looks to be significantly different than the current air cushion technology (essentially an inflatable skirt that reduces friction against the water), instead opting for huge runners made up of low pressure captive air cells contained within foam casings. Thanks to those runners, the UHAC should also be able to move across difficult terrains, including marshes, mud flats, and even sea walls up to 10 feet high.
The downside to the UHAC will be a reduction in speed to 20 knots – half the speed of the LCACs. The new lander is currently being tested using a smaller test variant at the Marine Corps Training Area Bellows on Oahu, Hawaii, where it is taking part in the Rim of the Pacific exercise.
Despite the slower speed, another advantage offered by the UHAC is its projected unit cost, which should be half that of the long-serving LCACs, whose purchase price ranged from $45 to $75 million.