Protesters defend San Francisco woman, 98, from eviction
Published time: 10 Jul, 2014 15:32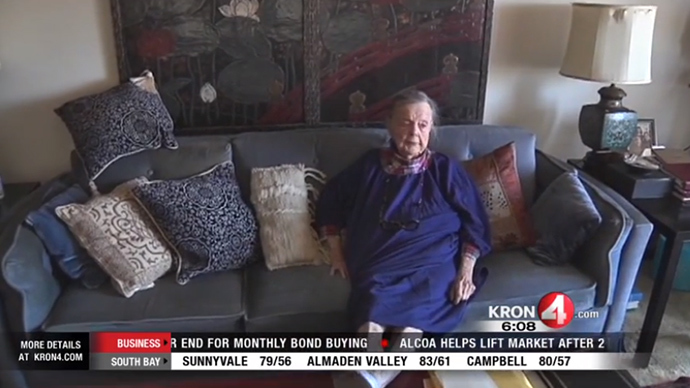 Mary Phillips has lived in the same San Francisco apartment for more than half of her 98 years on Earth, and this week she's saying that even an eviction notice isn't going to get her to move.
Fifty years after she first started receiving mail on Dolores Street, the nonagenarian and the rest of the residents of her building now face an imminent eviction because the property's owner, Urban Green Investments, is relying on California's Ellis Act of 1986 to give tenants the boot.
Under the Ellis Act, landlords can unconditionally evict tenants in order to get out of the renting business. The Anti-Eviction Mapping Project claims UGI's owner relied on the act no fewer than 43 times to unload unwanted properties during the last decade, however, and alleges that the company is merely buying and selling buildings in order to turn a profit.
"[UGI] is taking advantage of a political economy that the tech community has fueled," Erin McElroy ofEviction Free San Francisco told Business Insider this week, referring to the environment that has made the region one of the most costly areas to live in in America.
"I've been very happy here," Phillips pleaded with local network KRON 4 this week. "I've always paid my rent, I've never been late."
Nevertheless, property owners are allowed under the Ellis Act to evict tenants like Phillips if they say they want to stop renting, and often they have to compensate the party with a few thousand dollars, at most, which could be earned back in a few months' time by flipping the property or having it leased to someone else at a much higher rate.
"What we've seen is groups of investors are banding together to buy property, usually it's when a landlord dies and it's sold as an estate sale, or when someone just wants to sell to retire and then the speculator buys the property evicts the tenants by using the Ellis Act," Steve Collier of Tenderloin Housing Clinic explained to a local NBC affiliate last year.
Philips was first told she'd be evicted last April, shortly after UGI took control of the Dolores St. building. Now more than one year later with an eviction more imminent than ever, anti-Ellis Act demonstrators protested outside of the property's owners office on Wednesday this week to urge UGI to leave the building and its residents alone.
Eviction Free San Francisco's McElroy was among the attendees at this week's protest, and told Business Insider that a solution to Ellis Act abuse could be a ballot measure she's currently touting around town. If approved, property owners who sell-off buildings within one year of purchase would be taxed 24 percent on that sale, compared to a 14 percent tax for those who sell within five years.
"We've actually found that 79 percent of Ellis Act evictions happen within five years of ownership, which means it's primarily speculators and investors [doing this], and that's who we want to target with this tax," McElroy explained to BI during Wednesday's event.
Tax or no tax, Phillips says she isn't going to leave anytime soon.
"They're going to have to take me out of here feet first," she told KRON. "Just because of your age, don't let people push you around."