NYPD 'cannibal cop' to walk free after judge overturns conviction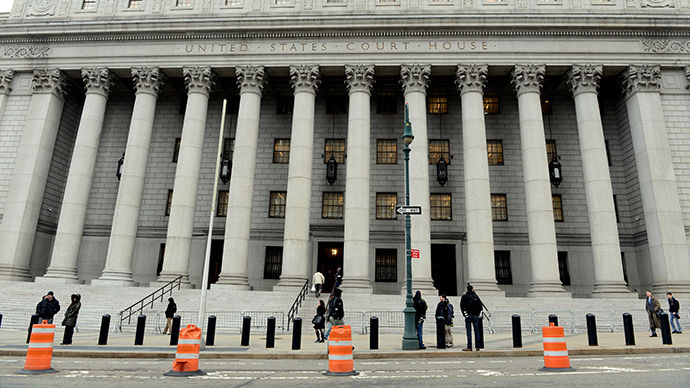 A former New York Police Department officer convicted of planning to kidnap and rape women before killing and eating them is set to go free after a federal judge overturned his conviction.
According to Reuters, the so-called "Cannibal Cop" Gilberto Valle was acquitted by US District Judge Paul Gardephe on Monday. Valle has been in prison since he was arrested in 2012, and potentially faced life behind bars on kidnapping conspiracy charges.
In his opinion, Judge Gardephe stated that the evidence used to originally convict Valle did not sufficiently prove that the former officer acted on what his attorneys said were sexual, cannibalistic fantasies involving women he never met, as well as his wife.
"The evidentiary record is such that it is more likely than not the case that all of Valle's Internet communications about kidnapping are fantasy role-play," the judge wrote.
Gardephe did uphold Valle's conviction on a less serious charge, which alleged that he used the NYPD's federal database to collect information on various women he intended to target. That conviction carried a sentence of up to one year in prison, but since Valle has been in jail since 2012, he can be set free as early as Tuesday.
Although prosecutors originally argued that Valle's access of the NYPD database signaled that the former officer was taking steps to carry out his lurid plan – they also claimed he had searched the internet in order to learn about using chloroform to knock someone unconscious – defense attorneys said his involvement with a dark fetish website was simply fantasy. When Valle appealed his conviction, his lawyers claimed the jury could not differentiate between the details of his fantasy and real steps toward making it a reality.
Gardephe also pointed to the fact that no one was ever harmed to justify the idea that evidence in the case was lacking.
"No one was ever kidnapped, no attempted kidnapping ever took place, and no real-world, non-Internet -based steps were ever taken to kidnap anyone," he wrote, according to the New York Post.
"Dates for `planned' kidnappings pass without comment, without discussion, without explanation, and with no follow-up. The only plausible explanation for the lack of comment on inquiry about allegedly agreed-upon and scheduled kidnappings is that Valle and the others engaged in these chats understood that no kidnapping would actually take place."
Speaking with the Associated Press, Valle's attorney Julia Gatto welcomed the decision.
"The judge's well-reasoned decision validates what we have said since the beginning: There was no crime," she said. "Gil Valle is innocent of any conspiracy. Gil is guilty of nothing more than having unconventional thoughts."
"Gil Valle has been in jail for 18 long months, 7 months in solitary confinement, for a crime he absolutely didn't commit," Gatto added. "We're relieved he will be free and incredibly grateful to Judge Gardephe for upholding the awesome and fundamental legal principles at stake here, including our core freedom to be able to think what we want free of government intrusion."
As RT reported in 2012, an FBI investigation into Valle's online activity found a series of unsettling documents and statements, including one file titled, "Abducting and Cooking (Victim-1): A Blueprint." Inside were details regarding the birthdate and bra size of a woman and a list of materials needed to carry out a kidnapping plot.
"I was thinking of tying her body onto some kind of apparatus… cook her over low heat, keep her alive as long as possible," the document read, according to court papers.
The FBI's complaint also alleged that Valle discussed kidnapping a woman for a third party.
"I will really get off on knocking her out, tying up her hands and bare feet and gagging her," he wrote. "Then she will be stuffed into a large piece of luggage and wheeled out to my van."
Although Judge Gardephe granted Valle's acquittal based on the idea that he did not commit a real crime, he acknowledged that these writings were "misogynistic" and "highly disturbing."
"Once the lies and the fantastical elements are stripped away, what is left are deeply disturbed misogynistic chats and emails written by an individual obsessed with imagining women he knows suffering horrific sex-related pain, terror and degradation," the judge wrote, according to the Post.
"Despite the highly disturbing nature of Valle's deviant and depraved sexual interests, his chats and emails about these interests are not sufficient – standing alone – to make out the elements of conspiracy to commit kidnapping."
You can share this story on social media: