Cannibal cop arrested in New York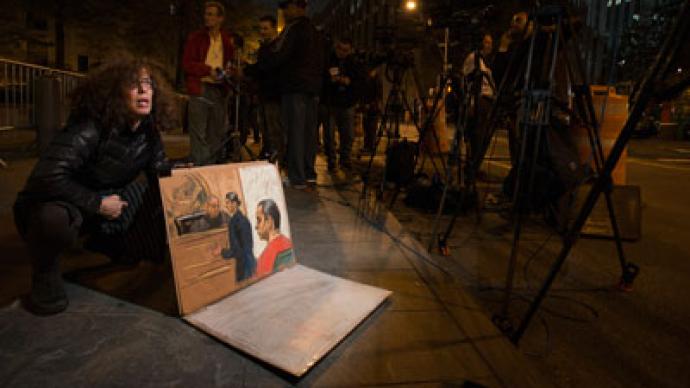 NYPD, home of New York's finest, now turns out to be home of one of the most gruesome. A police officer has been charged for conspiracy to kidnap and plotting to torture, cook and eat women by using a law enforcement database.
Gilberto Valle, a six-year veteran of the New York Police Department, left a trail of evidence via emails, electronic documents and instant messages particularizing his cannibalism blueprint. The FBI arrested the 28-year-old alleged cannibal cop after a tip from Valle's estranged wife triggered an investigation.A complaint filed by Bureau on Thursday describes Valle's efforts to target women.  "The allegations in the complaint really need no description from us," said Mary E. Galligan, the acting head of the FBI's New York office. "They speak for themselves. It would be an understatement merely to say Valle's own words and actions were shocking." One of the files found by the FBI on his computer was named "Abducting and Cooking (Victim-1): A Blueprint." The file also contained information such as the birth date and bra size and a list of "materials needed" to carry out the plot such as a vehicle, chloroform and a rope.The same document reads, "I was thinking of tying her body onto some kind of apparatus… cook her over low heat, keep her alive as long as possible."Overall, Valle compiled the profiles of over 100 women on his computer, the FBI claimed, but there was no information that anyone was harmed. He claimed, according to the complaint, that he was acquainted with many of his intended victims.The federal complaint also outlined supposed methods of fitting bodies into an oven, and highlighted how "tasty" Valle said one woman looked.The complaint also asserts that the cop discussed the kidnap of another woman for someone else, writing, "$5,000 and she's all yours." "I think I would rather not get involved in the rape," Valle said according to the complaint. "You paid for her. She is all yours, and I don't want to be tempted the next time I abduct a girl.""I will really get off on knocking her out, tying up her hands and bare feet and gagging her," he added. "Then she will be stuffed into a large piece of luggage and wheeled out to my van." Valle's mobile phone usage also revealed that he had made calls on the block where one intended victim lives.In May, Valle tapped into a federal database to get information on one of the women.The FBI tracked down ten of the women on the list, and all acknowledged knowing Valle.Preet Bharara, the US Attorney for the Southern District of New York, said the investigation is ongoing."Gilberto Valle's alleged plans to kidnap women so that they could be raped, tortured, killed, cooked and cannibalized shock the conscience," said Bharara. "This case is all the more disturbing when you consider Valle's position as a New York City police officer and his sworn duty to serve and protect."Valle has been suspended from the NYPD. If convicted, he faces life in prison and a maximum fine of $250,000.